Annette Gueron of Israel is seeking descendants of her great-great grandparents, Kate and David Platt of Poland.
Their children were Saunna, Abraham, David and Esther.
Esther was born in Poland in 1846 and married Jacob Goldstein.
They had 11 children - Besssie/Betsy, born 1868 Poland, married Joseph Yochanan Peltz Goldwater in 1885; Polly, born 1870, London, married Peter Coss; Fanny, born 1872, married Reuben Rasky; Morris, born 1874; Ellen, born 1876, married David Yellin (Annette's grandparents); Joseph, born 1879,; Samuel, born 1880 ; Dora, born 1881; David; Rebecca and Abraham.
Write to 84, Hazayit Street, Lapid 73133, Israel or email anet42@netvision.net.il
---
WALTER SCOTT of Carlisle wants information about his grandfather Benjamin Davis who married Isabella Levenston in Dublin 1890.
They moved to Cork, then Liverpool and eventually settled in Glasgow with their nine children - Louisa, David, Solomon, Frances, Lillian, Francis, Reginald, Ethel and Ivy.
The rest of the family moved to South Africa around 1900 where Walter believes there was an almost identical family of children with similar names and also a Caroline.
Walter's uncle Reginald spent 12 years working in South Africa as a steward on the Pullman Trains until he was stabbed by a passenger. He soon after returned to Glasgow.
Write to Eden Brae, Armathwaite, Carlisle, Cumbria CA4 9SL or email walter@alvis123.plus.com
---
Gareth Booker of Warrington is helping a friend research her Jewish family history.
The Usden family lived in Manchester in the Cheetham Hill area. Abraham Usden and his wife Charlotte(nee Sapiro/a) were the first of this family to come to England. The other family members were Eli Engelberg and his wife Lily (nee Franks). Eli was born in Manchester while his wife was born in Scotland. On Eli and Lily's marriage certificate the witnesses were Tobias Kletz and Louis Pavion, so Gareth would like to hear from their descendants too.
Write to 320 Park Road, Great Sankey, Warrington, Cheshire, WA5 3RE or email GMBooker@aol.com
---
Cissie Eppel of Vancouver is looking for the names of her grandparents' fathers.
Her grandmother was Sarah (Simma) Goldman who lived in Leeds and was buried in the city in 1922.
Her grandfather, Simon Samuel Goldman, died in 1936, also in Leeds.
He was well known in Leeds as 'Shimon the blecher' (tinsmith).
Write to #802-591 W 57th Avenue, Vancouver BC, V6P 1R9, Canada or email leppec@shaw.ca
---
Judith Usiskin's great grandmother Hannah Immergut married Israel Potash in the early 1880s. The couple had three children before he died. She remarried Judith's great grandfather Phillip Blashki in 1857 in the Great Synagogue, Manchester, from where they subsequently emigrated to Australia Judith would like more information on Israel Potash.
Write to 14, Stanhope Avenue N3 3LX or email jfusiskin@hotmail.com
---
DOV and BARBARA GILOR are looking for information on the parents and grandparents of Leibish (Arye Leib) Gittler of Sosnewic, Poland.
He was the Chief Rabbi of Sosnewic and his son Avraham Meir took the position after him.
Write to Hatamar 1, Hashmonaim, 73127 Israel, telephone 00972-8-976-1607 or email dov@gilor.com
---
Laura Cookson is trying to trace descendants of her great grandfather, Arthur Marks, who lived in the Hightown area of Cheetham Hill, Manchester in 1934.
He also worked at Cohen and Wilks in Cheetham Hill.
Laura's grandmother, Shirley Fletcher, was born in 1934 to Elsie Fletcher and Arthur Marks.
Write to 8 Lingmell Close, Davyhulme, Manchester M41 83W or email Lozmcfc@boltblue.com
---
Leonard Fine of Australia wants information about Zaidel Fainschmidt, one of the Ochberg orphans placed at Arcadia. Zaidel changed his name to Sydney Jack Fine and was later naturalised married to Hannah Kaye (Kosminsky) of London descent.
Write to 8/3 William Street, Rose Bay, 2029 Australia, telephone 0061412554336 or email lenf@bigpond.com
---
MANCHESTER AJEX is looking for relatives of Hyman Isaac Rosenfield, an airman buried in Sri Lanka in February 1946.
Some relatives have been located in Glasgow. A new headstone has been engraved complete with Magen David.
Contact David Teacher, 98 Kersal Road, Salford M7 3QL or telephone 0161-792 0377.
---
THERESA HOLLYWOOD of Scotland has been researching her family tree. She discovered that her mother, Fanny Montague was born in Glasgow on December 6, 1903. She is trying to find other members of her family.
Write to 15 Buchanan Avenue, Balloch, Dunbartonshire G83 8ED or email theresahollywood@yahoo.co.uk
---
Paul Tollman of Cork would like to find out more about his great-grandfather Hyman (Haim) Beare, who is reputed to have invented the curve in the walking stick.
Write to 48 Central Avenue, Bishopstown, Cork, Ireland, telephone 00353 818 365 100 or email ptollman@gmail.com
---
THE United Synagogue Community Division and the Jewish Genealogical Society of Great Britain have launched a new initiative.
Families can search the Office of the Chief Rabbi marriage authorisation indexes online.
These indexes will contain the 'English' names of the bride and groom along with the date and place of their intended marriage.
The Find your Family section of the United Synagogue website (www.theus.org.uk) will initially allow visitors to order and purchase copies of full marriage authorisations online for 1880-1886 with a discount built in for members.
Additional annual records will be added up until those of 1908. The indexes will then be updated annually on the 1st January following the guidelines given for Data Protection not to publish records less than 100 years old.
These records can also be accessed via www.jgsgb.org.uk.
---
Esther Feinstein Sackheim of Illinois is looking for the Feinstein family who lived at 50 Morgan St, London in 1913.
This the last address her mother Katie Weissman Feinstein had before leaving for the United States.
Write to 9151 Crawford in Skokie, Ill 60076, USA or email ZeraKodesh@aol.com
---
RUTH SILVER of Leeds is trying to find any family of Rachel Leah Nyman (Niman, Neiman), who was born September 13, 1863.
Her father was Levi Nyman and her mother was Annie (nee Smultsick).
On March 18, 1885, she married Barnett Ginsberg whose father was Moses Yacov Ginsberg.
Write to 12 Sandmoor Chase, Leeds LS17 7TB, telephone 0113 268 3781 or email silvers@bracken-park.co.uk
---
BERNARD SHAFFER wants to find a written document on the Bolton Jewish Community.
Write to 1 Charles Ave, Fawdon, Newcastle upon Tyne NE3 2PY or email Shafferintbm@btinternet.com
---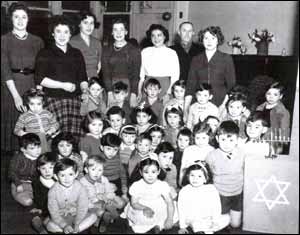 NURSERY DAYS: Glasgow-born Len Winestone has lived in Melbourne, Australia, since 1968. He has sent these two pictures of himself at the Jewish nursery in Queen Mary Avenue, Langside, around 1950. Anyone who remembers Len can contact him on 006139584 9400 or email len@winestone.com
---
To make an appeal, email Mike Cohen at roots@jewishtelegraph.com
Full names, addresses and telephone numbers must accompany all requests.
Correspondents should specify which contact information they require publishing.