I wonder if I might enlist the help of Jewish Telegraph readers with regard to the history of the Jewish community in Huddersfield.
As there is so little information available, the topic could be called "the hidden Jews of Huddersfield".
My interest in this topic is because I am Jewish, worked at Huddersfield Polytechnic/University for more than 30 years and have very fond memories of the town.
While at the University, I was intrigued by its prospectus claiming that Huddersfield welcomed students of all religions, since it had churches, mosques and synagogues.
There was no sign of the synagogues and I resolved that, once I retired, I would begin the quest to find out about the Jewish community in Huddersfield.
The first congregation was recorded in 1895. The first entry in the Jewish Year Book refers to "a small fund to relieve tramps on their way to Leeds or Manchester, supplying them with meals and railway fare", presumably a reference to co-religionists newly arrived in the UK and seeking refuge with friends or relatives.
The Jewish population hovered around the 50 mark until the early 1950s, rose to around 70 in the late 1950s and early 1960s, fell to 20 in 1964 and there has been no subsequent mention.
A synagogue was established in the early 1900s in Northumberland Street. No exact address is mentioned. Perhaps it was a room in someone's house or business premises - there is no reference to it in contemporary ordnance survey maps, but there is no mention of it after 1929.
A second synagogue and communal centre was established after the Second World War at 11 Albion Street, presumably demolished in the 1960s.
The community even had a rabbi, Rev Srolowitz, for a few years.
Dr L Ballon was president of the congregation from 1951 to 1956, followed by Dr N V Sapier from 1957-1964.
Perhaps the two most famous Jewish residents of Huddersfield were Albert Rosenfeld and Lord Kagan.
The former came over from Sydney in 1909 to play rugby league for Huddersfield. Still the record holder for the most number of tries in a season, he has been inducted into the Rugby League's Hall of Fame.
Albert settled in Huddersfield following his retirement from the game. Lord Kagan's Gannex company became known when Prime Minister Harold Wilson wore the company's trademark raincoat.
Subsequent to 1964, there is very little mention of the community and there is nothing in the town's reference library or archives.
Articles in 2003 and 2005 respectively refer to Dr Cicely Blair, "a dermatologist who grew up in Huddersfield" and to playwright Rick Friend, "one of very few Jews to be brought up in Huddersfield".
The Huddersfield Examiner (2004) mentioned that "there is no distinct Jewish community in Huddersfield.
There are some families, students and individuals but a separate, identifiable Jewish worshipping congregation in Huddersfield is something we do not possess".
There may no longer be a formalised community, but there was one for nearly 70 years and there is still a Jewish presence in Huddersfield and it is these aspects that I am looking at.
I would therefore be extremely grateful for any help.
May I ask anyone who may have lived in Huddersfield or know of someone who lived in Huddersfield, or who knows anything about the community, for any information?
This would include names of people, their businesses/occupations, any reminiscences and anecdotes, details of communal activities, photographs and any other information or artefacts on the Jews of Huddersfield.
Dr John Pearson,
589 Stonegate Rd,
Leeds, LS17 6EJ
---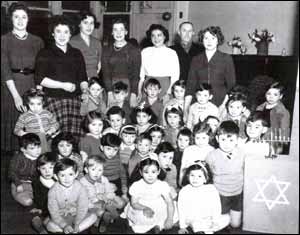 NURSERY DAYS: Glasgow-born Len Winestone has lived in Melbourne, Australia, since 1968. He has sent these two pictures of himself at the Jewish nursery in Queen Mary Avenue, Langside, around 1950. Anyone who remembers Len can contact him on 006139584 9400 or email len@winestone.com
---
To make an appeal, email Mike Cohen at roots@jewishtelegraph.com
Full names, addresses and telephone numbers must accompany all requests.
Correspondents should specify which contact information they require publishing.