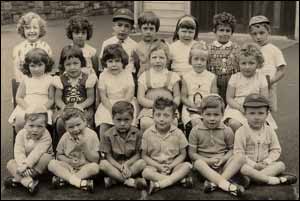 OLD SCHOOL: Barbara Graham (back row, fourth from left) with her old classmates
FORMER Mancunian Barbara Graham is appealing for help in identifying members of her old class at Broughton Jewish Primary School.
Barbara (nee Canton) now lives in Australia with husband Jack, but is looking for people to come forward with their memories of the old Broughton Jewish School on Singleton Road.
Barbara is pictured with her class in 1963, shortly before moving to Israel with her family in September of that year.
After settling into kibbutz life on Amiad in Galilee, Barbara became the outstanding soldier during her company's basic training.
Her service was spent in the Field School in Eilat, after which she became a dolphin trainer at the-then new Tel Aviv Dolphinarium.
While there, she met Jack Graham, a volunteer from South Australia, who whisked her away to Oz and they were wed soon afterwards.
The couple have a 22-year-old daughter Ocean, a 19-year-old son Ben and a 17-year-old daughter Tal.
If you are able to identify people in the picture, or have some memories to share, contact the Jewish Telegraph on 0161-741 2631 or email newsdesk@jewishtelegraph.com
---
To make an appeal, email Mike Cohen at roots@jewishtelegraph.com
Full names, addresses and telephone numbers must accompany all requests.
Correspondents should specify which contact information they require publishing.