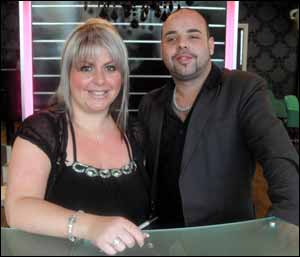 SEARCHING: Michelle Harris and Stefan Glass
A SISTER and brother in Leeds are trying to trace a long-lost half-brother.
Michelle Harris and Stefan Glass began the search in earnest after discovering the birth certificate and adoption papers for Daniel Bakerman following the death of their mother, Claudine Glass, last month.
Both Michelle, 34, and Stefan, 30, heard rumours a brother had been adopted in 1970 prior to their mother meeting their father, Jeffrey Glass, during the past decade.
"We both spoke to mum at different times, but she clearly found the subject too heartbreaking to discuss," said Michelle.
In a tragic tale, Tina Bakerman left Paris with her children Claudine and Howard for a new life in Leeds around the mid-50s.
"My grandparents had a stormy marriage," said Michelle. "When mum arrived in Leeds they had nothing, but did have family including my auntie, Ellen Benjamin, so it was a natural place to start a new life."
Michelle added: "Mum lived in Moortown and went to a school in Chapeltown.
"She made friends at the Judean Club and eventually married my dad. They divorced when I was 13.
"When I heard a rumour mum had a son before meeting dad I mentioned it, but she got really upset. I didn't tell Stefan but he also heard the rumour and we eventually chatted but decided to leave things as it caused too much distress."
But that decision changed a few weeks ago when Michelle and Stefan found documentation relating to their brother.
"Mum was 20 when she gave birth to a baby boy on June 15, 1970," Michelle explained. "It was an era when having a baby out of wedlock was frowned upon and she was pressured by the father's parents into giving the baby up for adoption.
"I can't begin to think what mum must have gone through and we have no idea if mum was alone at the birth.
"The birth certificate states my brother's name, but that may have changed and there is no details about the father, although we heard rumours he lived in Moortown and his parents owned a delicatessen.
"One of my auntie's told me that a chazan in Leeds organised the adoption. We will try and contact him to see if that is true, but want to proceed down every avenue."
Michelle added: "Stefan and I would love to find Daniel, who turns 39 in a few weeks.
"It would be unbelievable to track him down after all these years but know it will be hard."
Michelle, whose husband Andrew is undergoing treatment for a brain tumour, has had support from her family.
"I'd love my long lost brother to meet Andrew, our daughter Maimi and Stefan."
Contact Michelle and Stefan on 07931 103105.
---
ALAN HARRIS of Manchester is seeking information on his father's maternal grandparents.
Alan always believed the family name was Morris, but his father's birth certificate shows his mother's name as 'Pearl Harris, formerly Abraham'.
Pearl was born in Poland and had brothers Abraham, who had a large clothing factory called Coss and Morris, and Levi and sisters Leah, Minnie, Betsy, Becky and Sarah.
Their father's Hebrew name was Moshe Shmuel.
Alan would like to know from where the family originated and whether Moshe Shmuel and his wife (name unknown) are buried at Gildersome cemetery in Leeds, where Pearl, her husband Hyman Harris, Alan's father Sydney Harris and his sister Rose Tunick and brother David Harris are all buried.
Write to 131 Albert Avenue, Prestwich, Manchester, M25 0HF, telephone 0161 773 6605 or email alan.harris811@hotmail.co.uk
---
Uni research
Micheline STEVENS needs help with her post graduate degree.
She is researching at Southampton University the Jewish Education Aid Committee 1896-1907 and the Jewish Education Aid Society 1907-1918.
She has access to documents of the Committee/Society, but would like to contact anyone whose relatives were helped by either of these organisations with a view to including the beneficiaries' voices in her thesis as well as that of the benefactor.
Write to 7 York Crescent, Lee-on-the-Solent, Hants, PO13 9AX, telephone 023 92552704 or email mas401@soton.ac.uk
---
RICA GOLDBERG is searching for information on the Sandler family.
Mottie and Ettie Sandler moved to Manchester from Birzai, Lithuania, in the early 1900s and had five daughters and two sons.
At least one of the sons, named Hymie, went to live in Newcastle.
There was also another brother named Maurice (Morris).
Rica is also looking for any descendants of Rachel and Hyman Clayman who, according to the 1911 census, lived with Rachel's widowed mother Rebecca Cohen at 1 Broughton Street, Cheetham Hill, Manchester.
The Claymans were possibly from Leeds.
Rachel Clayman (nee Cohen) was a sister of Rica's grandfather Abraham Cohen.
Write to 12 Ringley Chase, Whitefield, Manchester M45 7UA, telephone 0161-767-9060 or email Gerrica@aol.com
---
JERUSALEMITE Dr Rosalind Romem wants information on Sir Victor Blank, chairman of Lloyds TSB.
Rosalind says that a Blank relative, aged about 70, has been told he looks a lot like Sir Victor.
Rosalind would like to know Sir Victor's parents, their origins, or his siblings.
"Our family are from Lomza/Warsaw areas of Poland," Rosalind said. "My Blank ancestors were Emanuel Blank, born in 1836, son of Azriel Zelig and grandson of Isaac."
Write to 7 Beit Hakerem St, Beit Hakerem, Jerusalem, Israel, telephone 00972 2 6513136 or email rosalind@netvision.net.il
---
To make an appeal, email MIKE COHEN at roots@jewishtelegraph.com
Please include your home address and contact telephone number.