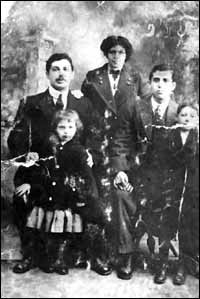 MANHATTAN NIGHTS: Lipman Hyman, left, with wife Elizabeth and Lipman's brother, whose name is unknown, in Manhattan in 1911. Also pictured are Celia Hyman and Solomon Hyman
HAZEL LEE, of Chesterfield, is longing for information about her grandfather.
Lipman Hyman married Elizabeth and had a daughter, Celia - Hazel's mother.
In 1911, they spent time in Manhattan, New York, along with Celia's brother, Solomon Hyman. in New York, they stayed with Lipman's brother.
"My mother had another brother, Joseph Hyman, who should have sailed to New York on the Titanic, but he missed the ship because of his barmitzvah," Hazel said.
"My grandmother, weeks later, brought Celia and Solomon back to England to find Joseph. My grandfather stayed in New York.
"I know they lived in the Cheetham Hill area, she mentioned Elizabeth Street and Herbert Street and I know she attended the Jewish school there.
"I think my grandmother came back to live in Chesterfield where she lived before she married my grandfather.
"My mother talked of her grandfather being a rabbi in the Cheetham Hill area.
"She talked of taking a small boy to a park near where they lived, she said his name was Shmeily."
Hazel added: "I remember her and my father taking me to Wales to see her uncle Harry Hyman, who was the mayor of Denby, this was the early 1950's, he made us so welcome.
"I also remember going to London to the Smithfield meat market, she had relatives there and I also remember her saying she was related to the owners of Hymans, now Titanics deli, in Manchester.
"She used to talk to lots of Jewish people who came to Chesterfield market years ago.
"My mother passed away a few years ago, but although she didn't marry a Jewish man, she always remembered where she came from and kept up most Jewish traditions. She always wore the Star of David, as I do."
Contact 01246 559824 or write to 12 Sudhall Close, Newbold, Chesterfield, Derbyshire S41 8BX.
---
Yvonne Baines of Canada is searching for the families of her grandparents Reuben Myers and Rebecca Cohen.
Reuben Levitt Myers was born on November 21, 1881 in Kovno, Lithuania.
His parents, Samuel Levitt Myers and Sarah, settled in Liverpool in 1883.
Samuel and Reuben were tailors. Rebecca was born in Liverpool on April 20, 1882.
Rebecca's parents were (Joseph) Israel Cohen and Miriam Barnett.
Joseph was born in Lomza, Poland, in 1847.
Reuben and Rebecca married in Princes Road Synagogue on March 25, 1913. He had a brother Isaac, who settled in Rochester, New York.
Rebecca was the second youngest of seven Liverpool-born siblings.
Eliza (born 1867) married Moses Abraham Friedman and settled in Bradford; Morris (1870) married Betsey Greenleaf in 1892; David (1872); Esther (1874) married MacWill Rosenberg in 1896 and settled in Birmingham; Maudicai (Marks) (1878) married Maud DeFrece in 1900; Rachel (1880) married Wolf Leff in 1914 and settled in Canada; Leah (1884) married Gilbert Henry McClelland.
Maudicai and Maud's children were Rachel (born 1902), Maurice (1903) and Esther (1907).
Rachel and Wolf had three children - Israel, who died in infancy, Miriam and Cecil.
Leah's children were Clarice, Robert and Cyril.
Write to PO Box 1087, Raymond, AB, T0K 2S0, Canada, telephone 001403 752 4619 or email nonneyb5@hotmail.com
---
JOHANNESBURG-born Paula Cohen would like to find the children of her first cousin Ian Cohen and his wife Sara (nee Shotter).
She wants to locate Danielle and Jonathan Cohen, who previously resided at 27 Sheepfoot Lane, Prestwich, Manchester.
The last time she saw Danielle was in 1976, when she was still a toddler, and Jonathan had not yet been born.
Their grandparents' names were Dr Jack and Greta (nee Glass) Cohen and Sam Shotter.
Paula's parents were Simon (Sid) Cohen, who was born in Manchester, and Esther (Essie) Cohen, nee Goldberg, who was born in Leeds.
She has a brother called Robin Cohen, who was born and lives in Johannesburg.
Write to PO Box 1043, Houghton 2041, Republic of South Africa or email at paulac@jse.co.za
---
Leonard Erskine left Southport in 1947 at 16 for America.
Over the past 15 years he has catalogued a complete history on Bennett/Erskine side of his family.
However, the family of his grandmother Fradel Erskine, nee Shapiro, eludes him.
There was a sister, Esther Rochel, brothers, Gadalia and Harry a jeweller in Southport.
He recalls there were cousins called Black (Schwartz) who were Ester Rochel's children.
He believes one of the relatives was David Black, who worked on the Canadian Pacific Steamships as a chef.
Write to 3901 N 37 Ave, Hollywood 33021, Florida, USA or email lersk@aol.com
---
LONDON-born Lucille Laketer is trying to trace Marc Sapper, who married Smadar (nee Jacoby).
They had a daughter, Dalia Katya Sapper, in 1974 in Bury.
Lucille, who now lives in Tel Aviv, believes that Marc's grandfather, Max Sapper, was married to Kate (nee Laketer).
"If this is correct, then she was my paternal grandfather's sister (by the name of Louis/Lewis).
"It would appear I am the last of the Laketers as none of my father's brothers or sisters had any children."
Write to PO Box 6122, Tel Aviv 61060, Israel or telephone 0097279100115.
---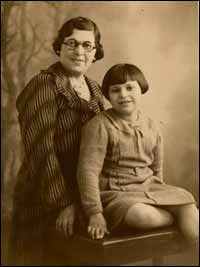 FAMILY PORTRAIT: Olga Seranskey with daughter Maria
Pnina Manashrov of Israel wants to trace relatives who moved from the Ukraine to Israel.
The family started a meat business sometime between 1910 and 1920 in Liverpool.
Mother Olga Seranskey had two children named Lev and Maria.
They last made contact in 1976 with Pnina's family in Kirovgrad to report Olga's death.
Email pnina271@nana10.co.il
---
Tom Heinersdorff is looking for anybody who knew his cousin Heather Marriott between 1985-1995.
He would like to learn more about her final years.
Heather (nee Furley) died more than 10 years ago at the Cheshire Home in Spofforth after a long fight with multiple sclerosis.
She had come from a family with a Viennese Jewish background, but had lost some Jewish identity.
She had developed an interest in Judaism before her death.
Heather was in contact with the Jewish community in Leeds and may even have been buried in a Jewish cemetery there.
Telephone 0115 9653789 or email tom.heinersdorff@btinternet.com
---
Linda Gordon Higgins, of Texas, is looking for anyone with the surname Opchinsky.
Linda's mother, who died in 1981, was called Helene Barnett Gordon, although the family name was originally Opchinsky.
Her research has uncovered Barnet Opchinsky, who died in England.
"I know that the family lived in London before coming to America and one of them matriculated at Oxford University," she said.
Email lghiggins@yahoo.com or write to 2600 Westhollow Dr, #1113, Houston, TX, USA or telephone 001832 888 9004
---
MARK WILKS want information on the company Cohen and Wilks which used to trade from Derby Street, Cheetham, Manchester.
Email markwilks@tiscali.co.uk
---
To make an appeal, email MIKE COHEN at roots@jewishtelegraph.com
Please include your home address and contact telephone number.