Alan Kahn, of Lincolnshire, is looking for information on his great-grandfather Victor Kahnn.
Victor was born about 1823 in "Luxemberg, Germany". He married a French woman, Mathilde Cahen, in Paris and moved to Liverpool around 1855/1856, initially to the Elizabeth/Crown Street areas.
Alan believes he represented Cunard Steamship Company on the Mersey as an agent for Jewish migrants bound for America.
He had six surviving children, most of whom are fairly well-documented in all published census reports and registries.
For some reason they all seem to have adopted the name Kahn, dropping the second 'n'.
But Alan can't discover where Victor was born and whether he had siblings.
He has a suspicion that brothers or sisters emigrated to America. Alan's grandfather, Gaston Victor, and his brothers, Arthur and Charles, made regular trips to America possibly to visit Victor's family.
Email familytree@kahns.co.uk
---
AUSTRALIAN Sue Silberberg is updating her family tree.
Her earliest ancestor to move to England was Michael Levinson, who arrived in Sheffield around 1850.
He had two brothers - Rabbi Benjamin of Mielziner and Daniel of Gostynin.
Daniel's son Michael Joseph Jacobs died in Sheffield in 1907.
In 1974, Mr J D Goldberg, of Oakfield Rd, Didsbury, Manchester wrote to a cousin of Sue's, Frank Levinson of London, explaining he was a descendant of Michael Joseph Jacob and offering some information about family graves.
Frank has since died and Sue would like to get in touch with any members of Mr Goldberg's family.
Write to 68 Dixon St, Malvern, Vic 3144, Australia or email sue@silberberg-consulting.com
---
Alan Gersch, of Israel, is looking for information on Howard and Harvey Farber - the Sheffield-born children of Morris Farber and Kitty Kaddish.
Alan is also seeking information on Louis D Goldberg, born around 1925/6 in London. He was the son of Katie Shafransky and Jacob Goldberg.
In addition, Alan would like to hear from anyone descended from Leslie Davis, who was born around 1925 in London, and was the son of Fanny Shafransky and Maurice Davis.
Telephone 009723 7537044 or email alan@pelins.com
---
HILARY TURNER, of Formby, has spent many years researching her family history, but has run into a dead end.
She is looking for family members descended from Rebecca Tavriger and Woolf Shipper, who married in Manchester in 1884.
The six children who survived were Philip (born 1885, Hilary's grandfather), Louis (1893), Sarah (1896), Fanny (1898), Edith (1901) and Joseph (1903).
Rebecca and Woolf were both born in Poland.
Write to 17 Kenyons Lane, Formby, Liverpool L37 8BE or email giffers@talktalk.net
---
JACKY BROOKES, of Wester Ross, wants to trace members of the Phillips family who lived in Edinburgh in the 1890s.
Jacky believes her grandmother Rachael Fredericka Robinson (born February 2, 1889) was engaged to Marcus, the son of Jacob and Bella Phillips, just before Marcus was killed in World War One.
Bella lived in the same street as Rachael in Edinburgh, Brunswick Street, just before she was married on May 26, 1891.
"I would love to find a relative of Jacob and Bella who could let me have a photograph of Marcus Phillips and maybe throw light on his engagement to my grandmother, around 1913-14," Jacky said.
Marcus' brother Abraham (Abe) wrote a book on Edinburgh Jewry. His other siblings were Harris and Emily.
Rachael's siblings were Frederick (born May 14, 1890) and Joseph Charles (born 1900). Their father's jewellery shop was at 24 Haddington Place, Leith Walk,Edinburgh.
Email jlbrookes@hotmail.co.uk
---
Marsha Cohen Gilbert wants to find descendants of Harry and Fay Balsam.
Harry, who died in 1978 at the age of 63, had two sons Michael and Clive.
Harry's mother was Pearl Cohen, who married Moe Balsam. His sister was Peggy Prince, who had a son Edward.
The only address Marsha has for Harry and Fay is 17 High St, Brixworth, Northhamptonshire.
In addition, she wants information on Solomon Cohen, who had a daughter called Cissie Cohen Eisner.
She had a daughter, Anita, who married Wolfie Fruyan.
Marsha would also like to hear from the Australian man who contacted her about Naomi Lipke Cohen. She tried to email him at hakelev@optusmet.com.au but the messages all bounced back.
Email Marsha at marsha@initiallyyoursboutique.com
---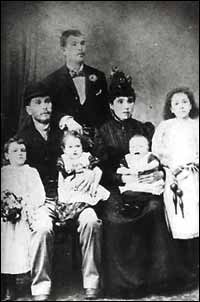 FAMILY PORTRAIT: Mottle and Ettie Goldberg, both seated, with Isaac Goldberg, back, and some of their children including Yetta, right, and Rebecca, second right
CARL Goldberg and Janette Jacobs of Manchester, along with Prue Thorner of America, are trying to trace the Sandler family of Shaw Street, Cheetham.
Mottle (Marcus) Sandler married Ettie Goldberg around 1884 in Berzie, Latvia.
They had several children including Yetta (married name Richman), whose younger son is well-known Manchester shochet Alex Richman. Another child was Rebecca, whose married name was Gottlieb.
Ettie, whose brother was Isaac Goldberg, died in 1911 aged 45. Mottle remarried, although Carl, Janette and Prue have no information about the second wife apart from she had children from a previous marriage living in Vauxhall Street, Collyhurst.
Contact Carl on 0161-740 8792 or Janette at janette.jacobs@virgin.net
---
SARA RUBIN, of Pennsylvania, wants to find her cousin, Eva Dottel.
Sara believes that Eva's parents in Poland gave her to a non-Jewish family to keep her safe in the Holocaust.
All Sara has is the wedding photo above, taken in the London area by Bennett Studio in the 1940s, but she has no idea of the groom's name.
Contact sararu70@verizon.net
---
JEWISH Week journalist Steve Lipman wants to reunite a family with their possessions.
Steve was contacted by a New York-based Manchester-born rabbi who came into possession of old letters, postcards and photos that belonged to members of the Locker family - Leon, Charles and Freda - in the first half of the last century.
There is a reference to a Locker Brothers business while Steve has found reference online to Leon Locker being active in Poale Zion.
Telephone 001212 9972936
---
HILARY Thomas, of Cheshire, is trying to trace the Rosenberg family who were cousins of her late grandmother Miriam (nee Marks).
Miriam, who was born about 1896, married Albert Rosenberg at South Broughton Synagogue in 1926.
The couple, who lived in Salford, had two children - Irene, who was born in 1927, and Merton, who was born in 1928.
Write to 13 Edgemoor, Bowdon, Cheshire WA14 3JN, telephone 0161-928 6242 or email hiltone@talktalk.net
---
CHARLENE ROSEN, of Massachusetts, wants to find descendants of tailor Samuel Singer, who lived in the Cheetham area of Manchester from 1864-1931.
Samuel and his wife Fanny had eight children - David, Sarah, Betsy, Moses, Lewis, Minnie, Marcus and Ellis. Ellis died in 1982.
The Singers who Charlene is descended from went from Manchester to Boston in 1880.
She wants to know if Samuel Singer is the brother of her grandmother Rachel Singer.
Write to 89 West Dugway Rd, Lenox, Ma, USA 01240 or email crosen1@roadrunner.com
---
To make an appeal, email MIKE COHEN at roots@jewishtelegraph.com
Please include your home address and contact telephone number.