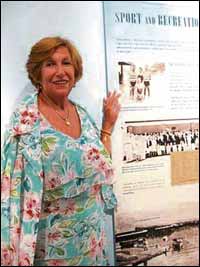 RESEARCH: Hedy Davis at the launch of the 'Memories of Muizenberg' exhibition in Cape Town
MANY ex-Muizenbergers and friends of Muizenberg contributed to the 'Memories of Muizenberg' exhibition, currently on display at the Jewish Museum in Cape Town.
Hedy Davis, chief researcher on that Project and editor of the comprehensive photo caption document detailing more than 1,250 images, is writing a book, The Shtetl by the Sea.
It will incorporate much of the material that it was not possible to include in the exhibition, memoirs and historical research into the Jewish community of Muizenberg - a seaside suburb of Cape Town.
Hedy would like particulars of when grandparents and parents arrived in Muizenberg as well as information about everyday life, describing how the village annually changed from the bustling premier holiday resort in South Africa to a quiet community.
Write to hedy.davis@gmail.com or Hedy Davis, PO Box 909, Wendywood, South Africa, 2144.
---
PAULA Mackaway, of Australia, is searching for lost relatives.
Her grandfather was Max Aitken, born Myer Atken on January 6, 1912, in Glasgow.
When he was born, his parents Joseph and Rachel (nee Cohen) Atken were living at 130 Thistle Street, Glasgow.
Joseph and Rachel were married in Zagor, Russia on March 15, 1898.
Max married Colina Cassidy on April 11, 1931, and moved to Australia in 1954 with their two youngest daughters, Carol and Frances.
Their eldest daughter, Patricia, was married and had moved to Australia about 12-18 months earlier. She is Paula's mother.
Paula was born in Brisbane, Australia, in 1954. She is married with two children. At the time of Max and Colina's marriage, Max was living with his parents at 40 Dunmore Street, Glasgow.
Max had a sister and a brother, Albert Atken, born in 1914 who also was known by the name Aitken.
Albert married Gertrude Freedman in 1936.
Albert and Gertrude adopted Albert's sister's child, Jeffrey.
Albert died in 1995 in Irvine, Ayreshire. At that time, Jeffrey was living at Killwinning and signed the death certificate.
Paula's attempts to find Jeffrey have not been successful.
After Rachel's death, Joseph married again on July 6, 1930, to Jeanie Factor (also known as Freedman).
Jeanie had been living at 32 Govan Street, Glasgow. Her parents were Louis and Mary Factor, both deceased at the time of the marriage. At the time of Joseph's death on September 13, 1946, the couple were living at 58 Rose Street, Glasgow.
Joseph and Jeanie had two witnesses at their marriage - S Labinsky, of 114 Portugal Street, Glasgow, and Louis Blint, of 17 Pitt Street, Glasgow. Does anyone know these people?
Write to 15 Boardwalk Avenue, Meadowbrook, Queensland, Australia 4131 or email pxmac09@hotmail.com
---
Patricia Nixon discovered five years ago that she was adopted as a baby in 1943.
She has discovered that Lewis Cohen (Cowan) was married to Sabrina Holenberg and lived in Carnarvon Street, Cheetham, Manchester in 1914 when their daughter Sarah (Patricia) was born Lewis is described as a 'drapery traveller'.
When Sarah married in 1932 it was outside the faith.
Sarah told her children that she was from a Russian/Polish background.
Her eldest daughter remembers a distinguished gentleman with a pointed beard visiting and an Uncle Bernie and Solly are also recalled.
When this marriage failed in the late 1930s contact was lost with the Cohens (Cowans)
Sarah (Patricia ) told her youngest child born in 1955 of her Jewish background and spoke of being the second youngest in a family of five - the other siblings were Jamie, Bernie, Alex, Peter, and Simon.
"In the past few months Sarah's family has been brought together by my discovery that I was adopted," Patricia said. "The link between us all is our mother Sarah and the Jewish faith ."
Telephone 01329 284594 or email ep.nixon@ntlworld.com
---
Angie Elfassi, of Israel, wants information about Solomon Cohen, of Leeds, who was born around 1926.
His parents were Jack and Fanny Cohen and he was married to Rose Shank.
Although they married in 1946 in a Leeds registry office, they may have only registered the marriage in 1949 because on the certificate it says 'Pursuant to the marriage act 1949'.
This may also coincide with when they divorced.
According to the marriage certificate, Solomon was living at 53 Mexborough Drive, Leeds 7, and Rose, who was 22, lived at 313 Harehills Lane, Leeds 9.
Their marriage was witnessed by the couple's mothers Lena Shank and Fanny.
They had one child, who was born in October 1947.
Angie wants to find out if Solomon is still alive, whether he remarried and if he had any more children.
She also believes he may have had a twin.
Write to: 7/24 Menachem Begin St, Yehud, 56478, Israel or aelfassi51@yahoo.com
---
Diane Giller and Nick Perry are looking for information about their grandmother, Minnie Cohen, nee Reubens.
They believe she was related to the Reubens family who ran the bakery in Manchester in the 1960s and 70s.
Minnie was born in Hull in 1899, and had several brothers and sisters - Marks, who emigrated to Canada; Willie; Sarah; Morris, who married Sarah Sklar; and Herzie, who married Rebecca Lazarus and had two sons, Mark and Lionel.
They believe there may have been other siblings.
The Reubens family lived in Hull, York, Bradford and Chorley before settling in Manchester.
Their father was tailor Barnett Reubens and their mother was Fanny nee Stone.
Email Nick at monick@btinternet.com or telephone Diane on 0161 740 4732.
---
BRIAN GRANT, of Montreal, is trying to find any descendants of his Lobinsky family.
In particular, he would like to find anyone with a connection to Sadie Lobinsky, who was born in 1921 and was living at 43 Birch Street, Hightown, Manchester in the late 1930s.
It is possible that some members of the family might have changed their name to Lobell.
Brian knows that Sadie's mother's maiden name was Goldenberg, but apart from this he has no other information.
---
Marsha Cohen Gilbert, of Oregon, is looking for David Heges or Hedges, of Southport.
His mother was Peggy Prince, the sister of Harry Balsam.
She also wants information on Pollie Cohen Myers, who was married to Nathan Myers and lived at 105 Valley Drive, Harrogate in 1912.
Pollie died on September 19, 1912 at the home of her uncle and aunt Mr and Mrs Joseph Cohen, 7 Crimbles, Leeds.
marsha@initiallyyoursboutique.com
---
Natalie da Silva, of Joannesburg, is looking for information on Eli Jacobs, who was born in Leeds in 1906.
He was the son of Russians Abraham Jacobs and Leah Vitris.
In 1931, Eli married Phyllis Goodman, who was born in 1903 in Mile End, London.
She was the daughter of Rachel Linkoff and Reuben Goodman, who emigrated to South Africa in the early 1900s.
---
NEIL SPUNGIN, of Israel, wants to know about Max Spungin, who appeared on the 1911 UK census living in Leeds.
Neil lived in Leeds for six years before making aliya, but was not aware of Max's existence.
---
ERIC MYLOTT, of Tenerife, is trying to research his late mother's family history.
She was born Lena Rosen to a Polish immigrant family who had arrived in Manchester at the beginning of the 20th century.
Eric believes her father ran a fruit and vegetable stall and was also a tailor in Manchester, but died in the late 1930s.
Lena owned the Halfway House pub, on the corner of Bury Old Road, Prestwich.
Eric thinks his mother's family were related to Sidney Bernstein - founder of Granada Television.
Contact June Deakin on 0161-612 8552 or email J.Deakin40@ntlworld.com
---
Barbara Wilson, of Manchester, wants help solving a long-standing family mystery.
Some years ago Barbara found this photograph taken by Percy Guttenberg of St Ann's Square, Manchester, among her parents' (Jane and Samuel Seddon) early photographs.
Those who think they can help solve the mystery should email Barbara at pevcastle@sky.com
---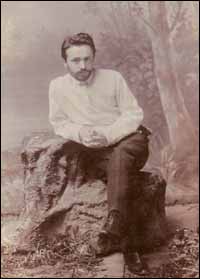 DAD: The father of the Fridmans
AMI IFHAR, of Golan Heights, is looking for a family named Fridman, who moved to Manchester after the 1904 pogroms in the Ukraine.
They came from a town named Romny.
The father was a brother of Ami's grandmother Rosa Fridman-Marshov. She died in Herzylia in 1951. All Ami knows about the Fridmans is that the father was a doctor and his son was an engineer.
Email amifhar@gmail.com
---
BRIAN CHARLES GRAYSON wants to find relatives of his mother, who died last month.
Sarah Rachel Brodey was born in Liverpool on June 6, 1910 to Joseph and Ida (nee Greenblatt) Brodey. She died in Melbourne, Australia, on May 28, 2010, 10 days before her 100th birthday.
Email briangrayson@iprimus.com.au
---
Dan Josephson, of Florida, is looking for anyone who lived on Mazeppa Street, Cheetham, from the 1930's to 1950's.
He would also like to find his old friend, Melvyn Harris, whose family emigrated to South Africa.
Write to 9748 Lemonwood Drive, Boynton Beach Florida USA 33437, telephone 001561 752-8242 or email danman547@bellsouth.net
---
DAVID PEARLSTEIN, of Las Vegas, is trying to contact his cousin Lindsay Bush, of Leeds.
The email address he has for her no longer works. David has another cousin in Leeds, Marcia Layton.
Write to 2709 Otter Creek Court, Unit 101, Las Vegas, Nevada, USA 89117-1736, telephone 001702 8800944 or email dodger4r@aol.com.
---
JENNIFER ALFORD, of Ohio, wants information on her great great-grandmother Sophia 'Sipie' Krueger, nee Salomon.
Jennifer believes she moved to America in 1900 with her son, Myer Krueger (13 at the time).
She then left him with her sister's family and went to Palestine for the rest of her life. She probably left America in 1902.
Write to PO Box 241, Utica, OH 43080, telephone 001614 565-2804 or email jenalford@gmail.com
---
LILIANE BERKOVITS, of Omaha, is searching for her brother Fernand Provisor, who was born in Paris in 1942 and lived in Israel and Montreal.
Email lili1940@aol.com
---
Dr Michael Baffsky, of Australia, is hoping someone can shed some light on this photograph, taken in 1955.
The lady in between the two men is a visitor to Newcastle, New South Wales, from the UK - and most likely a first cousin to the man on her right, Calman Goldring, of Manchester.
Email ickeyjb@optusnet.com.au
---
To make an appeal, email MIKE COHEN at roots@jewishtelegraph.com
Please include your home address and contact telephone number.