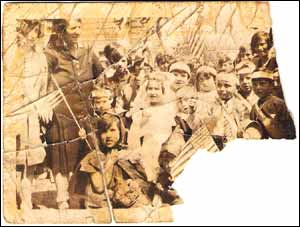 PARTY: The Sternberg/ Steinbergs celebrate Purim in 1929
HILARY and Gene Osofsky have already had success with Roots Directory.
The Californian couple were reunited with family members whose grandparents remained in Manchester after the rest of the family emigrated to America.
But they have hit a brick wall with their latest search.
They are looking for descendants of David Machin, born 1948, and his sister, Kathleen Weeks, who was born a year later and married Brian Weeks.
Their parents were Sarah/Sadie and Stanley Machin and their last known address was in Epsom, Surrey. Kathleen's son, Richard, emigrated to New Zealand.
Kathleen and Brian's American cousins are Peter and Elizabeth Edelson.
Hilary and Gene are also looking for Rayella Edelson, who was born in Manchester in 1948 to Blema (Woolf) and Julius Edelson,
Rayella, whose last known residence was Leeds, is the granddaughter of Ettie (Stein) and Caspar Edelson.
She has a Manchester cousin, Janet (Leigh) Hanson, daughter of Hettie (Edelson) and Jack Leigh.
Also on their list is Stephen Kemelfield, who was born in Manchester in 1956 to Ruby (Sternberg) and Aubrey Kemelfield. Stephen's mother died when he was only three.
His grandparents were Fanny (Cohen) and Samuel Sternberg, and his great-grandparents were Betsy (Cohen) and Jacob Sternberg, of Manchester.
Hilary and Gene are also looking for descendants of Hannah/Anna (Kelman) and Joseph Samuel Stein, who lived in Manchester but were originally from Gargzdai (Grasden), Kovno Guberniya, Russia.
Anna was related to Isaac, Joseph and Morris Kelman. The Steins were also related to Betsy (Cohen) and Jacob Sternberg.
Anna and Joseph lived on Cliff Street, and then Bury New Road, Prestwich.
Their children, born between about 1878 and 1895, were Yetta/Ettie, Jane, Louis and Abraham.
The couple also want to find descendants of Jacob Harris Stein, who lived in Manchester with his wife, Nellie Cohen.
Their children were Robert, Solomon, Beatrice, Florence, Julian, and Sidney.
Jacob worked as a cabinet maker, while Solomon married Jane Levy, daughter of Abraham and Sarah.
Robert might have married Amelia Marshall.
Isaac Stein emigrated to America in 1908. He first went to his uncle, Joseph Lander, in Atlantic City, New Jersey.
In 1910, Isaac lived on De Lancy Street in Philadelphia, Pennsylvania, with his wife, Dora.
Seven years later, he might have moved to West Taylor Street in Chicago, Illinois, and worked as a trunk maker.
On his immigration records from 1912, Hilary's grandfather, Maurice Sternberg (Morris Steinberg), named his cousin Isaac Stein as the person in the US he was going to visit.
Israel Stein emigrated to America in 1911. He went to Philadelphia where his brother, Isaac, was then living.
Israel worked as a waterproof garment maker.
Harry Stein possibly emigrated to America. There is a record of a Harry Stein, wife Rose, children Eddie, Sam and Joseph, in Chicago in 1920 and 1930. This Harry also worked as a trunk maker.
There is also a record of a Harry Stein, who married a Jane Regan in Manchester and had daughter Elizabeth Stein, born 1912.
This Elizabeth might have married an Alfred Hall and had children Alfred G, Betty, Ronald, Irene, and Norma Hall between 1933 and 1941.
Write to 37 East Altarinda Drive, Orinda, California, USA 94563, telephone 001925 2530983 or email Hilary2@aol.com
---
DAVID HARRIS, of Maryland, is trying to connect his Rubin and Ghelber (Gilbert) family branches with the Lang family of Manchester.
The Gilberts and Rubins were both from Austria-Romania and were connected by their wives, all with maiden names Leibowitz. The families eventually settled in Chicago.
Alter Rubin left Romania for England and spent time in Manchester before sailing to New York in May 1911.
Leaving Liverpool, the manifest shows that the closest relative left behind was his uncle Tobias Lang, of 2 Enid Street, Lower Broughton, Salford.
Alter was followed by his father Fishel Rubin who also spent time with Tobias, then residing at 4 Waterloo Road, Manchester.
Tobias and his wife, Mindel Lasansky, were married in Iasi, Romania, in August 1860, and celebrated their 50th anniversary in Manchester.
Among their children were Joseph, Barnett, Abraham, Lousa (and/or Lizzie) and Sarah. Tobias died in 1912 and Mindel in 1924.
Sarah Lang married and had a daughter, Marion, born in 1909. Sarah is listed as a widow in the 1911 census.
A cousin of the Rubins was Osias Ghelber, married to Estera Leibowitz. The 1896 wedding was witnessed by Pricopie Lungu, aged 30 years.
David wonders whether Lang is an Anglicised version of Lungu.
Email dorsharris@verizon.net
---
FRENCH journalist Ilan Braun is researching the history of a French schooner which transported clandestinely 183 Holocaust survivors to then-Palestine in 1946.
The ship, the Ideros or Amiram Shorat, was one among the very few ships which successfully broke the Royal Navy blockade.
Some of the passengers were from a refugee camp - known as Kibbutz Mekor Baruch - in a small town named Bacoli, north of Naples.
The man who founded this camp was Baruch Epstein, who was born in Liverpool in 1911. He lived at 29 Grandby Street and went to the Rathbone School.
His mother lived at 99 Grandby Street in 1947.
Baruch went to then-Palestine in 1924, going to the Tachkemoni School in Tel Aviv.
He returned to the UK to study at the University of London and obtained a degree from Jews College in 1935.
He finally received his rabbinical diploma at the Jerusalem Hebron Yeshiva in 1939.
He was also 'Jewish Chaplain to the Forces' between 1941 and 1946.
Telephone 0033 2976 73307 or 0033 951473488 or email ilanbraun@free.fr
---
David Pearlstein, of Las Vegas, is seeking relatives of Lewis and Leah Jacobs.
His uncle David Levenson, whose parents were Abraham and Annie Levenson, moved in with his aunt Leah Jacobs at 7 Armenia Grove, Manor Street, Roundhay Road, Leeds in September 1911 and stayed with her for about three years.
Leah and Lewis had a daughter Rebecca in March 1886. Rebecca married Harry Cohen on September 1911.
David believes their children, all born in Leeds, were Leonard (born December 1912), Ethel and Maud (March 1915), Phoebe (March 1920), May (September 1920), and Norah (June 1922).
Leonard, Maurice, Maud, Lilah, May and Norah were all married between 1939 and 1948.
Lilah and her husband Bernard Grossberg had a child Alan Grossberg in March 1941.
Write to 2709 Otter Creek Ct, unit 101, Las Vegas, Nevada, USA 89117-1736, telephone 001702-8800944 or email dodger4r@aol.com
---
Claudia Kugelmass, of Toronto, is trying to locate the family of Dora Wish.
Dora lived on Craigwell Road, Prestwich, Manchester around 20 years ago. She is a cousin of Claudia's grandfather Chaim Kopyto (aka Hyman Kaminsky).
Dora had an aunt Pearl, who lived in St Louis, and a niece, Bernice Corn, who lived in West Des Moines, Iowa.
Claudia wants to learn more about her grandfather's family.
She remembers being told that he visited his cousins in Manchester before emigrating to Canada around 1920.
Write to 916 Briarhill Ave, Toronto, Ontario M6B 1M2 or email claudiakugelmass@rogers.com
---
Lorna Kay wants to trace the family of Morris Joseph Kutchinsky, who married Dinah Frieze in June 1901 at the Old Central Hebrew Synagogue, Victoria Road, Leeds.
They may have shortened their name to Kitchen before heading first to London and then America.
Morris Kutchinsky had two brothers in the UK - Abraham and Chiell Myer, who both lived in Preston. There were four other siblings, three of whom stayed in Poland and one who went to France.
Email lorna.kay@talktalk.net or telephone 0161 792 2740.
---
Estelle Beninson, of Manchester, recalls spending two weeks at a Jewish children's home in Lymm, Cheshire, in 1944.
Her mother told her that the matron didn't know what Jewish children ate, so she served them pickled herring.
Estelle would like to hear from anyone who remembers the home.
Email estelleb@talktalk.net
---
UNIFORM: Eliezer Osterer
IRV OSTERER's grandfather Eliezer (Leiser/Leo) served for five years with the Canadian Armed Forces during World War Two.
Eliezer, who was 39 when he enlisted, spent much of that time in Manchester and had a close friendship with a Jewish family called Siedon (Seidon), which may have moved to South Africa after the war.
Email irvosterer@rogers.com
---
John Fitzpatrick, of Wigan, wants information on his grandfather Harry Caplan, who was born in 1896.
He was separated from John's grandmother before he was born and also lost touch with John's late mother Cecile Sandra Fitzpatrick (nee Caplan).
Harry's parents, Nathan Caplan, born 1869, and Netty Caplan, born 1875, ran a butchers business from 7 Bury New Road, Cheetham, Manchester.
They had nine children - Harry (born 1896), Sarah (1898), Esther (1900), Polly (1902), Cissie (1903), Solly (1905), Annie (1907), Edith (1908) and Ada (1910).
Write to 6 Copperfield Wigan WN1 2DZ, telephone 07734212953 or email j.fitzpatrick@sky.com
---
Ian Bersten, of Sydney, wants to trace the Glasgow descendants of Henry Samuel Bloom.
Henry, pictured, moved to Australia in 1857 after being in the Argyll and Sutherland Regiment and fighting at Alma, Sebastopol and Balaclava. He died in Brisbane in 1914. His daughter gave Ian a photo indicating that he had a brother in Glasgow.
With the help of Harvey Kaplan, of the Scottish Archive Centre, he discovered that the brother's name was Louis Bloom, a picture framer married to Sara.
Email ian@helian.net.au
---
Lorna McLelland, of Skelmorlie, is trying to trace Allan Harris. He was a student in Glasgow around the time he met Lorna's mother Janette McAlpine in 1969/70. Lorna was born in November 1970 in Glasgow.
Write to Balvonie House, Halketburn Road, Skelmorlie, PA17 5BP or email lorna@lambrecht.co.uk
---
Gwen Little, of Horsham, is trying to trace her best friend from school, Audrey Prepsler. They attended Abbeydale Girl's Grammar School in Sheffield during the Second World War, after which Audrey moved to Leeds.
Write to 19 Dickins Way Horsham RH13 6BQ or email gwendoline.little@sky.com
---
Glasgow-born Gayle Isaacs, who now lives in Perth, Australia, wants information on the Klineberg family, pictured. The photograph shows Gayle's maternal grandfather Solomon (Solly) Klineberg with his brothers. Three of the brothers are in Imperial Russian uniform circa 1890-90. Contact gayleabroad@hotmail.com
---
To make an appeal, email MIKE COHEN at roots@jewishtelegraph.com
Please include your home address and contact telephone number.