Olga's grandson is looking for answers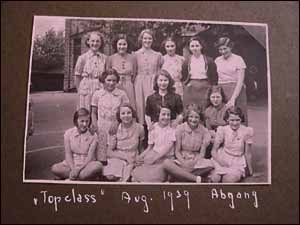 CLASSMATES: Margit in her Harrogate school class in 1939

LASTORIA e.V., a research group in Bremen, is appealing for help on behalf of the grandson of Olga Irén Fröhlich.

Margit, the daughter of Olga Irén Fröhlich, moved from Hamburg to England in 1938. She finished school in Harrogate in 1939.

Write to Lastoria e.V., c/o Monika Felsing, Berliner Str 18, D-28203 Bremen, Germany or email hommage@lastoria-bremen.de
---
Sunderland family
IAN JOHNSON, of Bury, wants information on the Dribbin family of Sunderland. The family also lived in the Strangeways area of Manchester.
Write to 14 Langdale Drive, Sunnybank, Bury BL9 8HP, telephone 0161-766 4604 or email linian58@yahoo.co.uk
---
Jacob's descendants
Michael Baffsky is searching for descendants of a Jacob Ephraim Goodman.
Jacob and wife Sarah had 10 children and lived at 8 Park St, Manchester in 1891.
They had moved to 51 Heywood St, Cheetham by 1911.
The children include Sophia, Bertha, Harry, Lazarus, Goodall (who married a Dora Ellison), Edith and Sydney.
Jacob also had a brother, Marks, who married Kate Samuels.
They had five children - Fanny, Michael, Jacob, Rachel and Lazarus - and lived at 141 Elizabeth St, Cheetham.
Email mickeyjb@optusnet.com.au or telephone 0061 412 999 363.
---
To make an appeal, email MIKE COHEN at roots@jewishtelegraph.com
Please include your home address and contact telephone number.