Barry wants info on married ancestors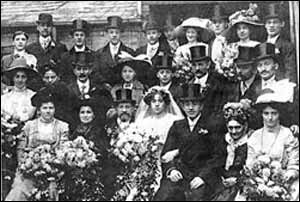 WEDDING DAY: Mark Jaffa (third right) marrying Yeta Levi (front, centre) with her mother Annie and father Getzel beside her

BARRY Abramson is looking for information on his ancestors.

He knows that Mark Jaffa married his great-great grandmother Yeta Levi in the late 19th century.

Yeta was the daughter of Annie and Getzel.

She was known throughout the community as the Jewish midwife to the immigrants from eastern Europe in the 1890s, having been trained at St Mary's Hospital.

She was born in 1850 and died in 1920.

Contact Barry on 0161-280 6877.
---
To make an appeal, email MIKE COHEN at roots@jewishtelegraph.com
Please include your home address and contact telephone number.