Treasured puppet theatre vanished after arrest in UK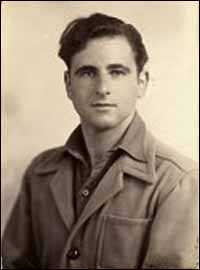 JEWISH HERITAGE: Johann Pistori

THE daughter of a Jewish refugee from Nazi-occupied Austria is searching for information about her heritage.

Christine Pistori's father, Johann, was 17 when he arrived in Leeds in 1939 with a solitary piece of luggage.

Among his possessions was a puppet theatre he'd made with his late father in Vienna.

Johann, who died in 1984, had no idea of his Jewish heritage and eventually settled in the south of England with his wife Elli.

Christine, of Pudsey, Yorkshire, discovered paperwork relating to her father's past and religion.

Johann arrived in the UK as part of a Quaker-run farming scheme for schoolboys.

Interned in Harrogate, he lived happily at Carlisle Grove in Pudsey where he worked at a local mill and followed the fortunes of Yorkshire Cricket Club.

But Johann's remarkable story took a new direction in 1940 when he was arrested by the British Government who had a policy of mass internment for refugees of German and Austrian descent.

Listed as an 'enemy alien', Johann was interned at Harrogate, sent to the Isle of Man and on to Australia via SS Dunera.

There are no records of Johann's time in Australia, but after two years he returned to the UK and fought against the Nazis in the British Army, reaching the rank of sergeant.

Returning to Leeds with his wife after the war to retrieve his childhood items.

The puppet theatre had been taken by police when he was arrested and he could find no trace of it.

Christine, 63, can be contacted by email at cpistori@touchstonerenard.com
---
Twice married
AUSTRALIAN Margaret Fullarton is looking for information on the family of Hyman Auerbach, who was born in Austria around 1868 and lived in Manchester.
He was married first to fellow Austrian Rebecca and had children Abraham, Harry, Morris, Jacob and, maybe, Goldie
After Rebecca died around 1903, he married Annie Sewelson from Lithuania.
Hyman's father was Lemel and Annie's father was Eleaza Sewelson.
She was married from her uncle David Sewelson's home.
David was an apothecary in Manchester whose daughter Hannah married a Liebermann.
Annie and Hyman had Saul, Cecilia, Hetty and Sarah.
Abraham Auerbach married Bessie Cohen; Cecilia married Samuel Schneiderman; Hetty married Harris Farber or Ferber.
Email fullmark1@bigpond.com
---
Meskin mystery
DENISE Stallman, of Manchester, wants help solving the mystery of the missing Meskin brothers.
Ellis and Percy were the sons of Yetta Lilly Meskin (nee Chernick) and Maurice Meskin .
Ellis was born in Prestwich in 1906 and Percy was born in Cardiff in 1909.
Denise said: "I was told by a cousin that they had disappeared and their parents lost touch with them .
"There are some very elderly cousins who would like some closure about them."
In 1929 they both went to work as planters in Balaclava, Jamaica.
In 1932 they visited Miami, and it was noted that they had two months left on their work permits.
In 1933 they returned to the UK - Ellis used the name Vernon and the records show he was an accountant. Percy's profession was shown as an engineer. They gave their forwarding address as the YMCA in London.
The next and only other record is from 1935 when they are shown on the electoral roll for Paddington.
Percy was using the name Phillip Percy and Ellis went by Vernon Ellis. Their surnames are shown as Maskin rather than Meskin.
Write to 26 Fairway , Prestwich, Manchester, M25 0JH, telephone 0161-798 5903 or email tstallman45@aol.com
---
Father's cousin
ISRAELI Iris Graicer is looking for her father's cousin, who moved to England in the mid-1930s as a young student from Moravska, Ostrava, Czechoslovakia to study at university.
Her surname was Eherlichman, but Iris' father can't remember her first name or what she studied.
It is not known if she returned to Poland after her studies.
Iris' father had two uncles in Ostrava. Bernard Ehrlichman, married to Terezia (Kauffman), was born in 1894 and sent to Auschwitz in 1942 with another daughter.
Avram Ehrlichman was born in 1886. He married and had 2 children.
Email: irisgr@smile.net.il
---
Search for Eli
Murray Schwalbe, of Manchester, is seeking information about Eli Rhine and his wife Ann (nee Schwalbe) and their children Sam (born 1893) and Jane (born 1895).
He is also seeking the current whereabouts of Ellis Simons and his sister Ruth.
Contact 0161-773 1455 or email murrayschwalbe@lineone.net
---
reunite Barbara
ISRAELI Ofer Alperovitch is trying to find old friend Barbara Canton Graham.
Ofer would like to invite her to a reunion of the Scouts Friends in Israel. Barbara was born in Manchester, lived in Israel and now lives in Australia
Email: ofer.ophir@gmail.com
---
Sisters at barmitzvah
POSE: Esther Edelstone

BRIAN COHEN, of Edinburgh, is trying to find descendants of sisters Minnie and Esther Edelstone.

Minnie married Max Goldman in Manchester in 1921. A wedding photograph which Brian has is inscribed "to cousins Sarah and Mot" - Brian's grandparents Sarah (nee simon) and Mot (Julius).

Minnie and Max had two daughters, Rita and Sybil, who were 'principal boys' on stage. The pair attended Brian's barmitzvah in 1952. Sybil married Ian (Isadore) Lichtenstein.

Esther married Hyman Freeman in 1926.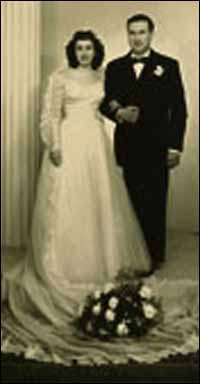 WEDDED BLISS: Sybil Edelstone marries Ian (Isadore) Lichtenstein

Write to 3 South Gillsland Road, Edinburgh EH10 5DE or email him at bbc@st-andrews.ac.uk
---
To make an appeal, email MIKE COHEN at roots@jewishtelegraph.com
Please include your home address and contact telephone number.