Denise looks for a family connection

DENISE Stallman, of Manchester, is looking for a link between Rabbi Dr Alec Eliezer Silverstone (1897-1982) and her paternal grandmother, Dora Hardman, nee Priceman (1889-1943).

Denise was told by her uncle, the late Rev Leslie Hardman, that Dora was a cousin of the Southport rabbi, but Denise cannot find the link.

Rabbi Dr Silverstone was the son of Rabbi Yehoshua Dov (Simon) Silverstone (1873-1960) and grandson of Rabbi Yehoshua Meir Silverstone (1843-1907).

He had a brother Rabbi Gedaliah (George) Silverstone (1871-1944).

A grandson of Gedaliah's has made an extensive study of his family tree, but has no knowledge of any connection to the Priceman family.

Email tstallman45@aol.com or telephone 0161 798 5903.
---
Marie's friends
MARIE Humphreys of Manchester wants to trace old friends Bernard and Bernice Rubinstein.
The Rubinsteins worked at different companies in Fountain Street, Manchester.
Bernice worked at chartered accountants Willett, Son and Garner.
Marie last saw them in 1959 when they took her out for tea.
Write to 38 Mayfield Road, Manchester M73 WZ or telephone 0161-792 8661.
---
vanishing Man
Howard Coupland, of Leeds, is trying to find details about Solomon Dunn, son of Harris Dworkin.
Solomon was born around 1898 and married Annie Gershfield in May 1922 at South Broughton Synagogue, Salford.
The family settled in Preston and he worked as a cloth merchant traveller.
Solomon had a brother Morris Dworkin and two sisters Fanny and Hetty.
In 1932, he apparently said goodbye to his wife and son and then disappeared without trace. He has a surviving daughter in Perth, Australia.
Write to 27 Primley Park Drive, Alwoodley, Leeds LS17 7LP, telephone 0113 2663429 or email how.jacque@ntlworld.com
---
Going for broker
ERIC Mason wants to find an insurance broker called Michael (Mickey) Bloom.
Eric dealt with Michael when he worked for National Vulcan Insurance Company in Manchester.
"He introduced me to the rabbis and I undertook to insure things like boilers in the United Synagogue plus many houses in Hale and Altrincham," Eric said.
When Eric was promoted and had to move to Reading, a leaving party was held at Whitefield Golf Club.
Email emason128@btinternet.com
---
Married in 1926
LORNA Kay, of Manchester, is looking for descendants of Morris and Rachel Flasker (nee Gibstone), who married in 1926.
Morris died in 1982 while Rachel passed away in 1978.
Email lorna.kay@talktalk.net or telephone 0161 792 2740.
---
Mystery over brother's death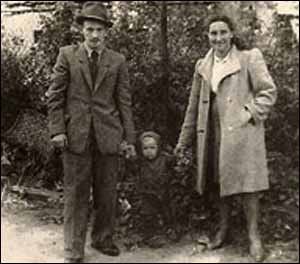 MYSTERIOUS: Israel Heiventreager with parents Hava and Yosef. But did Israel really die in 1949?

HANAN Shomrony is searching for his 'dead' brother Israel Heiventreager.

Israel was born in 1946 in Europe. In 1949, his family made aliya to Safed in Israel.

Within a month he was in the Emek Hospital in Afula with dysentery.

Two days later Hanan's father was told he had died. There was no funeral and no grave.

But Hanan learned years later from the Ministry of the Interior that in 1963 someone with Israel's ID number had left the country.

However, in the Death Registry of the Religious Council in Afula, he is registered as having died on April 17, 1949, and was buried in a common grave.

Hanan is the son of Hava and Yosef Heiventreager.

Email shomronys@gmail.com
---
Where are sisters in Yaron's picture?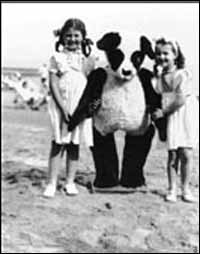 SEASIDE MEMORIES: Barbara and Shirley Rogove at the seaside in 1948. But where are they now?

ISRAELI Yaron Mehulal is looking for Barbara and Shirley Rogove.

Yaron found a photograph of two young girls at a seaside.

On the back of the photo, someone had written: "To uncle and auntie Bendet, with love from Barbara & Shirley Rogove, taken at Cliftonville 1948."

Yaron's grandparents were Jacob and Priva Bendet, originally from Warsaw, Poland. In 1948 they were living in Tel Aviv.

Email yaronm@ems-legal.com or write to 17 Hatsanhanim Street, Ra'anana, Israel 43265 or telephone 00972-544 243777.
---
Died in Auschwitz

Jacquie Gruszecki, of Toronto, wants to locate present day family of her cousin's father, Isidore Grunberg/Grinberg/Greenberg.

He was born in Galatz, Romania, about 1875, but emigrated to London, where he was a tailor.

Isidore, above, separated from his first wife around 1926.

He had a young daughter, Dorothy, born in 1919 in London.

Isidore and his second family, emigrated to Paris in 1927 or 1928.

They were relocated to a camp in Drancy, France, when there was a round-up of Romanian Jews in September 1942.

Isidore was sent to Auschwitz and died five days later.

Jacquie hopes to find his family for 93-year-old Dorothy.

Write to 10510 Bayview Avenue, Richmond Hill, Ontario, L4C 3N7, Canada, telephone 001905-7374994 or email yehudit5@yahoo.ca
---
HAVING A BALL

Marilyn Specterman has discovered a picture from the 1950s and is looking to fill in some of the names. The picture was taken at Sefton Court Hotel, St Annes, in 1955, at a function organised by the Federation of Jewish Youth Societies. Mrs Specterman (nee Denvers), of Bury, recognises a few faces, but would like to know if readers can spot more. Back fourth right, Leonard Josephs; Third row, second right, Mrs Specterman; third right, Lorna Crastar; second row, right, Harold and Maureen Glancy; centre, Harry and Evelyn Topper; front row, right, Geoffrey Tragen; front row, first left, Gordon Berlyne; third left, Yitz Jaffe. If any readers recognise any of the faces in the picture, contact the Jewish Telegraph on 0161-741 2631 or email newsdesk@jewishtelegraph.com
---
To make an appeal, email MIKE COHEN at roots@jewishtelegraph.com
Please include your home address and contact telephone number.