STUART BROWN recalls his piano lessons in the late 1950s with Sadie Michaels in Cheetham Hill, Manchester.
Stuart, who lived in Fallowfield, would travel to north Manchester with his mother, who worked for a Mr Glucksman on Cheetham Hill Road.
He remembers asking Miss Michaels about the number tattooed on her arm and her simple reply that she had been a prisoner of the Nazis.
Stuart would like to know more about Miss Michaels. He knows that she was a great friend of the Russian pianist Iso Elinson.
Stuart has travelled all over the UK as a pianist/entertainer. During a return to Manchester in the late 1970s, he met Rita Levine, who had also been a pupil of Miss Michaels. She told him that Miss Michaels and her sister were in an elderly people's home in Prestwich, maybe Heathlands.
"I visited her on spec," Stuart recalled. "It was a very large building. Unannounced, I was taken to her. I said hello and she replied, 'My wonderful boy pianist' after a period of 25 years of never seeing me.
"I think she passed away relatively soon after that meeting."
Email stuartbrown777@hotmail.com
---
EDWARD JOHNSON, of Manchester, is looking for descendants of Abraham Laserson, a builder in the 1930s, whose premises were at 140 Bury Old Road, Crumpsall, Manchester.
In 1935, Mr Laserson purchased a plot of land on Burnage Lane, Manchester, close to the border with Levenshulme.
On this land, he built 18 houses in a Mock Tudor style. The prototype house for his development is still standing near Crumpsall Metrolink station.
Edward is looking for any surviving photographs, either of the old Victorian house named 'Cringle Wood', which was demolished prior to re-development, or of the construction of the 12 houses in Tirza Avenue, where he has lived since 1968.
He would also like to know the connection with the name 'Tirza'.
Contact 0161-224 2405 or email tirza10@talktalk.net
---
Shelley Stephanou-Fawcett, of South Africa, wants more information about her grandmother, Phyllis Kathleen Groelin.
She believes that before she married Shelley's grandfather, Harold Fawcett, she wed Mr Rosenthal, with whom she had a son, Albert (Alby).
The family lived in Dundee or Hattingspuit in the Pietermaritzburg area of Kwazulu Natal.
Shelley's aunt remembered a phone call around 1980/81 with a message for Phyllis that Alby had passed away.
Phyllis' parents had emigrated to South Africa from Denmark at the turn of the century.
Shelley's great-uncles changed the family name by deed poll to Greyling.
Phyllis was born in 1908 in Dundee, South Africa, and died in 1982 in Durban.
"My grandmother often referred to her heritage as Jewish, but we cannot be sure that she was meaning herself or her ex-husband and her 'lost' son," Shelley added.
Email stepfaw@iafrica.com
---
Blanche Kahn, of San Francisco, is trying to locate members of the Streager family, who lived in Melbourne.
Ettie and Jack Streager, who she believes are now deceased, and sons Gerald and Martin emigrated to Australia from Glasgow in the 1950s.
Blanche last saw them during a visit to Melbourne in the mid-1990s.
She also wants to get in touch with her sister Roberta Adelman (nee Perris, changed from Pairos), who divorced Leonard Adelman and married a man from Oregon with the last name of Cooley (Cooly) who lived with her on the Gold Coast before they got divorced.
Roberta emigrated from Glasgow to Sydney with Leonard, daughter Judith and son Anthony (Tony).
Shelley's nephew attended medical school in Australia and became a pathologist, while Judith raised Australian blue dogs and also horses.
Telephone 001415-374-7088 or email blanchekahn@gmail.com
---
Sheona Green, of France, is trying to discover what happened to the five brothers of her grandmother, Sarah Green, who was born in Edinburgh.
In the 1911 census, she lived at 5 Thistle Street, Glasgow.
Sheona's great-grandfather, Morris Green, was born in Russia. He married Rachel Atlasovitch in Yebvabna, Poland.
Sheona's uncles were Louis (born Russia), Harry (born England), David (born England), Abraham (born England) and Joseph (born Glasgow).
She discovered that Joseph had a twin who died before the 1911 census.
David married Rachel Silverman at Oxford Synagogue. He and Harry are buried in Glasgow.
Telephone 0033468820608 or email bonport@wanadoo.fr
---
LEEDS-born Merv Barnett wants to hear from members of the Barnett family.
Merv, born in 1948, emigrated to Rhodesia in 1948. Since 1976, Merv and wife Naomi have lived in Melbourne.
His grandfather, Edward (Isaac) Barnett, was born in the 1880s and married Mary Wolfruss. Edward's parents were Jacob and Leah Barnett.
Email barnett@netspace.net.au
---
BRIAN GRANT, of Montreal, wants to trace his maternal grandmother's side of the family.
Freda (Frieda) Lobinski, nee Goldenberg, was born in Romania in 1899 and died in 1924.
She was the daughter of David (born 1866) and Leah Goldenberg (born 1870, died 1922). She had four brothers, Tobias (1889), Bernard (1894-1948), Samuel (1897), Marcus (1908), and two sisters, Jane (1904) and Ada (1905).
They moved to England between 1899-1901.
Email vigarus@sympatico.ca
---
Sandy Muchnick is looking for information about her father, Max Rosenberg, who was born in Brooklyn in 1914 and died in 2012.
He had two Polish-born brothers, Phil and Harry, and a brother Tom, born in New York. His mother was Pauline Rosenberg (a name given at Ellis Island).
Email sandymuch@gmail.com
---
David Barrett, formerly of Leeds, is looking for information on the Ukraine town of Berdichev.
His mother's family (Clarice Ellis, formerly Ehrlich) is from Berdichev.
David's father Max (formerly Zeretsky) had his origins in Wilkomir, Ukmerge so he would also like information about this Lithuanian area.
Email david@nadalia.com
---
AUBREY JACOBUS, of London, wants to hear from the family of Hannah Weinstein, who was born in 1900.
Hannah married Aubrey's cousin Morris Samuels (Szmulowitz) in Manchester Beth Hamedereth Beth Aaron in August 1920.
Her father, Jacob Marks Weinstein, lived in Cheetham in 1920, but Hannah left the UK before the Second World War - destination unknown.
Telephone 0208-203 1029 or email aajacobus@btinternet.com
---
Mandy Lomon, of Manchester, wants help identifying people on this wedding photograph. The bridesmaid on the left is her mother Kitty (Kyra) Powsney, while her aunt Jesse Powsney is on the right. Kitty was born in 1921. "Sadly there is no family left to ask," Mandy said. "My parents died when I was quite young, so it's something I would love to know." Email mandylomon@aol.com or telephone 07703-549020
---
Denise Stallman, of Salford, wants to know who these children are. The portrait was painted by her late uncle, Ivor Lawson, in 1976. Telephone 0161-258 8924 or email tstallman45@aol.com
---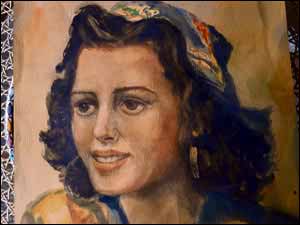 MYSTERY WOMAN: Hidden during the Holocaust
ISRAELI Chedva Ben-David is looking for a woman who was hidden in Liege, Belgium.
Paul Nagant hid the woman during the Holocaust, along with Chedva's mother Helen Weingarten.
Chedva would like Paul and his wife to be recognised as Righteous Among the Nations by Yad Vashem, but needs more information.
Paul, who was a member of the resistance, died many years ago, but his wife, who is now 94, does not remember any details.
Email chedvabendavid@gmail.com