Macclesfield shul memories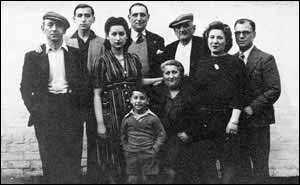 EVACUATED: The Weinberg and the Applebaum families in Macclesfield in 1943. These families were two of many which were evacuated from London to Macclesfield during the Second World War. The Weinbergs were one of very few families that remained in Macclesfield after the war. Both Rosina Weinberg, the young lady in the centre, and Martin Weinberg, the young boy in the front, still live there
By Basil Jeuda
Macclesfield Hebrew Congregation was the focal point for the large numbers of Jews, and their businesses, that were evacuated from London after the September 1940 London blitz, and who settled in Macclesfield during the Second World War.
The congregation was short-lived, with its synagogue opening in March, 1941 and apparently closing in September, 1946.
It had its own minister, Rev Irving Chazen, as well as Hebrew classes, a WIZO branch and an active social programme.
The shul was affiliated to the United Synagogue in London, and its Hebrew classes came under the jurisdiction of the Manchester Board for Hebrew Education.
Its president was Joshua Cohen, a long-standing resident with a successful drapery business (Holland & Barwood) in Chestergate.
At the outbreak of war, there were barely a dozen Jews in Macclesfield, but the evacuation from London, and Jewish refugees from Nazi occupation, boosted their numbers to well-over 150. Jewish businesses that moved up from London to Macclesfield/Bollington were: J Offenbach, Osband Knitwear, BJ Friend, V&E Friedland (later Friedland Doggart), Belmont Textiles (the Belmont and Lazarus families), H&I Franklin, and A Goldstein. Oberland Silks was a Swiss-Jewish firm that came to Macclesfield in 1932, whilst Halle (Hallemodes) was thought to be of Jewish origin.
Production was for the war effort, and included a wide variety of military and utility clothing. An exhibition in Macclesfield is planned for next Spring to commemorate the 75th anniversary of the opening of the Macclesfield Synagogue, at Charles Roe House, Chestergate.
Anyone who can help me to build up this fascinating history can contact me on 01625 426740 or at basil@jeuda.com
Basil Jeuda has lived in Macclesfield for 45 years where he has been active in the public and political life of the town throughout that period.
---
To make an appeal, email MIKE COHEN at roots@jewishtelegraph.com
Please include your home address and contact telephone number.