How Henry became as happy as Harry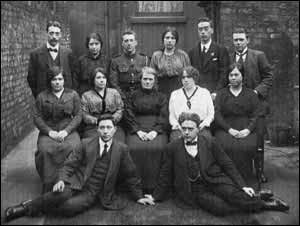 SUE'S SEARCH: Henry Blumenthal, back row, third left, with family at 2 Grove Street, Liverpool in 1915, soon after Nathan's death
SUE Easter, of Norfolk, is looking for information on her great-uncle, Henry Blumenthal.
Henry, who changed his name to Harry Dale, was born at 22 Fairclough Lane, West Derby, Liverpool on November 22, 1893.
He was the youngest son of tailor Nathan Blumenthal (born around 1840 in Kempen, Posen, Prussia) and his Leicester-born wife Sarah (born Elizabeth Suffolk in 1854). The couple had 14 children, including one who died as a baby.
Henry trained as a dentist, living at one point in Bournemouth with his elder brother, Moses Abraham Blumenthal - also a dentist who changed his name to Maurice Abraham Dale.
During the First World War, he served in the Royal Fusiliers. He had a daughter, who was known as Pepi.
Email sue.easter@btinternet.com
---
JUDITH Harris, of Leeds, wants to trace descendants of siblings from her Russian-born great-grandmother Ellen Rajinsky - some of whom may be in Australia.
The siblings were Etta, Kate, Jacob, Max, Reuben, Simon and Annie.
Email j.harris09@hotmail.co.uk
---
BONNIE Blish, of Oregon, would like someone to photograph burial plots of her Lazarus/Cohen/Karp ancestors.
They are at Manchester cemeteries Crumpsall, Blackley and Rainsough.
Email dcatalyst@comcast.net
---
SUZANNE Stewart wants to hear from anyone who knows this man born in Glasgow c. 1901-1903, whose father or paternal grandfather was an Ashkenazi.
He entered America around 1926 as John Peter O'Neill and later changed his name to John Paul O'Neill.
His son's DNA shows that he has Ashkenazi ancestry.
Email suestewart7@gmail.com
---
To make an appeal, email MIKE COHEN at roots@jewishtelegraph.com
Please include your home address and contact telephone number.