When CAROL KLEIMAN of Leeds discovered in Roots Directory that someone was searching for her late grandfather Hyman Khait, she unwittingly embarked on a year-long adventure in which she found 1,200 more relatives.
In July 1999, Irene Olson of Illinois appealed for information on Hyman, whom she believed to be her great-grandfather.
Hyman, whose father Aaron had been married twice, left Russia shortly before the Revolution, rescuing his brothers and sisters from both marriages and bringing them to Manchester.
''It turned out that Aaron was her great-grandfather and not Hyman as she had previously thought,'' Carol said. ''What had happened was that, unbeknown to us, my great-grandfather Aaron had three wives.
''When Hyman left for England, he was unable to bring the children from the third marriage along as they were too young. That part of the family had lived their lives in Stalinist Russia hoping one day to be reunited with their rescued brothers and sisters.''
Hyman kept in touch with them all until his death in 1936. Unfortunately all knowledge of them seemed to die with him.
In 1978, Irene OIson and part of her family finally made it out of Russia and settled in Chicago — and in 1992 the last remaining members of the family moved to Israel.
Irene immediately began searching for her lost relatives but to no avail, then last year with one last throw of the dice, she sent an email to the Jewish Telegraph.
''They had been searching for us for 20 years,'' Carol said. ''My brother Harvey had died earlier in the year in 1999 and I thought there was just myself and my sister left.
''From all of this we have discovered a whole new family with over 1,200 new relatives in the family tree. We also discovered that another great-granddaughter Elaine Mizrachi, from the second marriage lived only 10 minutes away from Irene in Illinois — and the two never knew each other.
''What is astonishing is that the three of us — Irene, Elaine and myself — share the same great-grandfather, but we all have different great-grandmothers!''
Carol's husband Harvey would personally like to thank the Jewish Telegraph . . . for costing him a small fortune in travel expenses to Chicago and Israel to meet his new relatives!
---
LEONARD LAPATNICK of New Jersey is trying to trace his paternal grandmother's parents.
His grandfather, Chaim Chaikel (Khayim Khaylel) Lapatnick, escaped from the Russian Empire with his father, Nochum (Nokhum) Lapatnick, and half-brother in 1890, the year in which he became liable for conscription into the Tsar's army.
They settled in Sheffield. Leonard's grandmother, Sora Lapatnick, his grandfather's cousin, moved to England to marry Chaim.
Chaim became Hyman Michael Lapatnick, Nochum became Nathan and Sora became Sarah. The half brother, Harry Lapatnick, later changed the surname to Patnick.
Hyman and Sarah had six children — Aaron (Leonard's father), Ada, Dora, Leah, Minnie and Abraham over a period of 13 years between October 1895 and March 1909.
Aaron moved to America in 1919, and was joined in Philadelphia by Leonard's grandparents and all the other children except Ada, who had married a World War I veteran named Jack Fierman and remained in Sheffield.
Great-grandfather Nathan lived in Sheffield until his death in 1924 at the age of (depending on the source) 92, 110 or 112.
Sarah's younger sisters and brother all arrived in the United States in the early part of the 20th century and settled in the vicinity of Newark, New Jersey.
''All I know about the great-grandfather I'm looking for is his name, Dov Zev Lapatnick, and nothing about my great-grandmother,'' Leonard says.
''I suspect that either these great-grandparents remained in Lithuania or they emigrated to England and/or to the part of New Jersey where their four younger children settled.
''The names these people, my father's aunts and uncle, had when I knew them as a youngster were Minnie Guss, Eda (or Edith) Bushman, Hannah Naiman and Albert Lakin.
''Uncle Albert made the name change, thinking it would be easier to get a job with a less 'Jewish-sounding' name.''
Write to 7 Michelle Court, Marlboro, NJ 07746-1636, USA or email Leonard at lennylap@aol.com
---
TONY LIN of Australia is looking for any information on his great grandparents Gabriel Brosinsky and his wife Sarah Levy who lived at 35 Honey Street, Cheetham, Manchester at the time of his grandmother's birth on September 22, 1903.
Gabriel owned a tailor shop and did uniforms for the British army. Tony's grandmother's name was Sylvia and she had a brother and two sisters, one named Rose. Write to 50 Coomoora Road, Ardross, Perth, Western Australia, 6153 or email tones_@dingoblue.net
---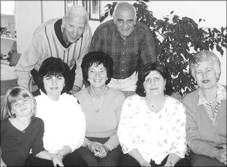 LOST AND FOUND: Carol and Harvey Kleiman travelled to Chicago to meet her long lost cousins. Pictured, back row, from left: Harvey Kleiman and Moshe Mizrachi. (Seated, from left): Ashley Olson, Irene Olson, Carol Kleiman, Elaine Mizrachi and Klementina Khait
---
To make an appeal, email MIKE COHEN at roots@jewishtelegraph.com Please include your home address.