My paternal grandparents, Michael (Mendel) and Deborah (called Toby) Redman, came from a village on the River Bug, near Odessa.
They were married in Russia and had one child, Abe (Abram). After coming to England, they settled in the East End of London, possibly in 1898, and subsequently had Sam, Esther, my father Jack (Jacob) and Joe.
Michael died when my father was 12, so he was never barmitzvah, and it must have been hard for Deborah to manage, especially as she never learned to speak English.
She must have understood it, though, because my father told me that the children spoke English to her and she replied in Yiddish.
She took in lodgers and one of them taught my father to play the violin.
When he was older, he played in a band while studying theory at the London School of Music.
From the age of 12, my father worked for a local grocer as a delivery boy.
Abe was grown up by this time and married to Sarah. He was working as a tailor when the First World War started, and he, along with all the others of military age who had been born in Russia, were sent back to fight in the Russian army.
Then in 1917, at the start of the Russian Revolution, the army, with him in it, went back to Russia.
He then went on to China where he worked for a Jewish tailor who would have liked him to stay, but he had a wife, and a baby, Minna, in London and had to return home.
It was not certain that he would be allowed back in, but the police seem to have been considerate and the magistrate who heard his case let him in.
I used to visit them on Sundays with my father, his mother upstairs, Abe and Sarah downstairs. I don't remember talking to them much, but I know that Abe was a communist and my father disapproved of that.
When Minna grew up, she married hairdresser Sam Weiner (I think they were communists too).
They had two daughters, Denise and Lesley, and lived in Stamford Hill.
The next brother, Sam, also became a tailor and he married Fanny.
They had a daughter, Helen, who married Nat Shaeffer and had two children, Monica and Stanley.
When I knew him, he was with another Minna and they had one son, Michael, who became a taxi driver and moved to Ilford.
Esther married Frank Goldstein, who had a sort of static fairground in Belfast. They had a daughter, another Minna.
I remember going to stay with them when I was three. Minna came to stay with us in South Woodford when I was about 11, and introduced me to the delights of Woolworths' jewellery - to my mother's horror.
She also met a young man whom everyone considered unsuitable and went back home with him. That's the last I heard of them.
Joe had a chemist shop in Forest Gate, by the station, very near to where we then lived.
He married Zena Bronstein and they had a daughter, Ruth, who married a lawyer and lived in Brighton. They had two sons.
Both my parents left school as soon as they could. They were probably clever enough to have got scholarships to the grammar school, but they couldn't have afforded the uniform.
So both got jobs in the same grocers shop, and when they had saved enough to get their own shop they married.
My maternal grandmother, Leah Gulkin, came to England alone; she once told me she had lived in Kiev and her father was a blacksmith.
When her mother died, he remarried and his new wife was about the same age as Leah and they didn't get on so Leah left.
I have a rather confusing list of names from my mother's memory: Aunt Hyams, who had five grown-up children, including Solly, James and Jessie.
Other names mentioned in relation to Leah are Lena and two brothers, one of whom (maybe Bernard) died at 21 in a cottage hospital).
Leah settled in the East End and found work as a fur machinist where she met her husband, Jacob Benjamin - someone said he was born Warkevitch and that he had been in a yeshiva, but got tired of it.
He had a brother, Marx, who was married with four children -Louis, Frances, Sadie and Gracie.
When Leah and Jacob married, they got a flat in Stepney Green buildings. They had four children, Gertie, Frances, my mother Bella and Maurice/Morris.
I hardly knew my grandfather as he died of cancer when I was quite young.
Gertie went to night school and presumably had office jobs, but by the time I knew her, she was trying to set up her own business.
I don't think it went too well because my father lent her money. When she died and left her money to me, I gave it to him because it was owed to him.
Frances wasn't very clever, but she had a nice singing voice and enjoyed performing.
I can't believe that I saw so much of my aunts and knew so little of their lives.
Both aunts lived with their mother in a house on top of one of my parents' shops in Barkingside.
They came out with us every Sunday, to Westcliff or Margate. My father always fetched them as they had no car.
Neither of the aunts married, but Frances had a baby - she never said who the father was and was terrified of her mother finding out.
So the baby, Marian, was put in a Jewish 'home' as Frances refused to have her adopted, and Gertie used to visit her regularly. Sometimes she was fostered.
My parents offered to adopt her, but again Frances refused. When Marian left school she went into nursing, because it gave her somewhere to live, and she got in touch with me - and we have seen each other from time to time since then.
The son from her first marriage lived with us for a time in Oare, Wiltshire, but it didn't really work out so he left; first to stay with his father and then, presumably, to return home to Canada where Marian moved when she married.
She has been happily married for years to Clay Schnurr and living in Vancouver Island.
Frances later married a Mr Shooter (maybe Michael), but it didn't last, though she had a loving relationship with his son from his first marriage, a 'blue baby' as we said then, called Hubert.
Maurice went to make his fortune in America. He sent a present to my mother from there, and then nothing more was ever heard of him.
My mother left school at 14 and had quite a lively social life as I have seen photos of her in fashionable clothes. She also bobbed her hair and painted her fingernails black.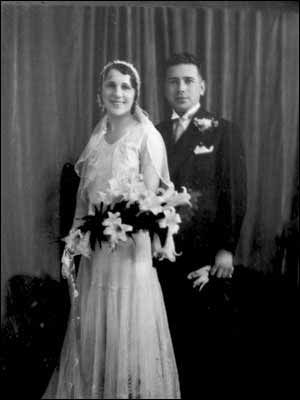 PARENTS' WEDDING: Jack and Bella Redman's wedding day in 1930

Then she met my father in the grocers shop and they both worked hard until they could afford to set up on their own.

They started with a shop in Leyton, selling confectionery and cigarettes, and by the start of the Second World War in 1939, they had five shops in Forest Gate, Barkingside, Lea Bridge Road and two in Leyton.

My father once told me he would have liked to have many more, but my mother was too cautious.

My mother's first child, a boy, died at birth because she was having the baby at home and although labour went on far too long, her doctor didn't like caesareans and said he wouldn't let his wife be cut, so she didn't get to hospital.

And dad and Gertie had been putting the cot up.

I was born (by caesarean, of course) on January 14, 1935, after they had been married five years.

My brother David was born in 1950. He now lives in Sheffield with his wife Loveday and has two children, Joe and Leah.

My first memories are from when we were living above the Forest Gate shop.

I remember the Prime Minister's broadcast saying, "We are now at war with Germany" and kicking my legs in the air and screaming because my parents said I'd have to go to boarding school.

The school they chose was Jewish, it was called something like Aryeh House in Brighton - not a good place to choose as the south coast was soon seen as susceptible to invasion and so we were evacuated to a castle in Carmarthen.

It was a long coach ride and many of us were sick, but my cousin Ruth was there too so I wasn't alone.

I was only four and I don't remember much about it apart from putting our fingers through the flames of the Shabbat candles and being given a penny to show a big boy my bottom behind a curtain.

I put the penny in the National Savings and the teacher praised me to my father about this, although I don't think he would have been pleased if he knew how I had come by it.

After a year or two, it seems we all contracted impetigo and my parents took me away.

I stayed in our house, Alfriston, in Harlow village because the Forest Gate shop had been bomb-damaged.

My father had tried to join up, and had interviews with the air force and the dock police, but they thought he was too old so they put him into a munitions factory- Plesseys in Ilford, and he joined the ARP in Harlow.

At the age of six, I was sent to a boarding school, Chantry Mount, in Bishop's Stortford.

I had to board because my mother had to run the shops as my father was in the factory. I hated it there. I remember being sick all night every time I had to go back.

We went home at half-terms and holidays, but apart from that only had 'outings' with our parents about twice each half-term.

I saw my mother more frequently when she was in hospital in the town. I was told she had a cold, but later realised she'd had a miscarriage.

I was the only Jewish child in the school - well, there had been another, Shirley Fine, but she left and I didn't like her anyway.

My mother told me years later that she had heard one teacher saying to another that she didn't know why they had to have these Jewish children in the school.

The war didn't affect us much out in the country - only rationing, of course, and the occasional night in the underground air-raid shelter, which was fun.

In 1944, the Butler Education Act made secondary education free for everyone. The last summer of the war was the doodle-bug summer.

My parents were now living in a flat in Malford Court, South Woodford, almost in London, so my parents didn't want me to be home alone in the holidays, so they asked if anyone from my school could take me as a paying guest.

I went to the Gowletts, who had a farm near Dunmow, and this was a wonderful summer for me: there were ponies so I could ride.

I didn't even mind when American soldiers on leave from the nearby base came to stay and I was moved out. I walked through country lanes to stay in a cottage belonging to friends of my hosts - although my mother was furious when she heard.

The war ended the next year so I could go home and take the 11+ (still called 'the scholarship' by most people).

When my parents asked my school what subjects I could expect to have in the exam, they just said they didn't know anything about these free schools.

VE Day was during term-time, so to celebrate we were invited to tea at the Treshan-Gilbeys - I suppose local gentry.

I was home for VJ Day and went to Buckingham Palace with my parents and chanted "We want the King" until the whole family appeared on the balcony.

I passed the 11+, even though I didn't have the French exam I had expected and hadn't been taught some of the maths, and had never heard of the general intelligence paper (or whatever it was called).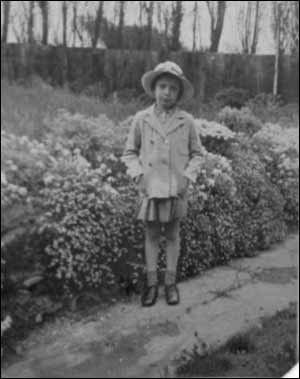 CHILDHOOD: Yvonne at the age of six

But the writing was wonderful. I had to write about the best holiday I had ever had, so I wrote all about the farm.

I passed and went to Woodford County High School, where I was happy and made some good friends.

Nobody in my family had been to university, so I relied on advice from my teachers, and as two girls were taking the exam for Royal Holloway College, University of London, I was told to take it too.

When I was accepted, they said I couldn't refuse London. So I went to this isolated place for 300 women which wasn't much like a proper university, but I enjoyed the work.

After that I went to the Institute of Education, London University, and did a PGCE and then taught: one year in Eltham Green Comprehensive - for some reason the headmaster wouldn't keep me on and didn't give me good references for other comprehensives I applied to so I went to Minchenden Grammar School in Southgate, North London.

After a few years I wanted to be a head of department and went to a Birmingham comprehensive where I met Glyn Bradbury.

My father was upset when, on October 26, 1966, I married Glyn, as he wasn't Jewish, but he reconciled to it eventually, especially when Glyn converted to Liberal Judaism.

We really enjoyed our time in Birmingham, but when Glyn wanted promotion, we decided to go to London, he as second in department at Abbey Wood Comprehensive.

I thought it might be interesting to work in a feeder primary school, which I did for a year, but then became pregnant, and when Ruth - now married to Jewish Telegraph deputy editor Mike Cohen - was born (in the British Hospital for Mothers and Babies, Woolwich) on October 24, 1968, I decided to stay at home to look after her.

Glyn took a job as head of department in King Harold Comprehensive, Waltham Abbey, so we moved there - which pleased my parents who had thought we were too far away in Blackheath and then Lewisham.

I told my mother we were 20 minutes away through Blackwall Tunnel, but she just said 'You're over the water' - the typical Londoners' response to South London.

My two other daughters, Esther and Yael, were born at home as hospitals wanted you to stay in for 10 days and I didn't want that.

Glyn was seconded for a year to Goldsmiths to work with trainee teachers, but before he went the headmistress changed her mind and said he should either stay at the school or resign - so he resigned.

He applied to Pewsey Vale, a secondary modern school that was going comprehensive in Wiltshire, and became head of humanities there.

My parents had both died during our last year in Waltham Abbey.

We moved to Oare, just a couple of miles from Pewsey.

Ruth and Esther went to Oare School where Yael followed when she was five, and I returned to full-time teaching.

I had always done some work - part-time teaching, Open University tutoring, exam marking, but I found that some things had changed while I had been at home, particularly ROSLA (the raising of the school leaving age) meant there were some reluctant pupils who had expected to be out of school, the CSE exam for those not likely to pass GCSE.

I did some supply teaching for a time in Pewsey Vale, but then got a permanent job in Devizes School where I stayed till I retired.

Glyn died on January 9, 1997, aged 55, from pneumonia as a complication of polyarteritis nodosa.

I stayed in Oare until the girls had left home and I needed somewhere smaller. I was lucky enough to find a house opposite Pewsey Vale School.

If you are related to anyone mentioned, email roots@jewishtelegraph.com