The pictures, probably taken in the 1920s, were of the Noar family, who were neighbours of her mother in Choir Street, Lower Broughton.
"My mother told me that four of the children were called Sammy, Eva, Sara, Yetta and Joey," Carol said.
"When I read the Jewish Telegraph profile on Janet Wolf and how she was descended from the Noar family, I contacted her through the JT to see if the family on my pictures were relations of hers."
Janet said: "Carol and I have had a couple of conversations about the photos.
"She told me the names she had written down and I compared them with a fairly detailed Noar family history that I have inherited.
"It listed the generation born between 1865 and 1900 and their children. My grandfather had six siblings and they all had lots of children.
"Unfortunately, none of the names appear on Carol's photos. Yet Noar is such an unusual name. It doesn't seem there could be another family."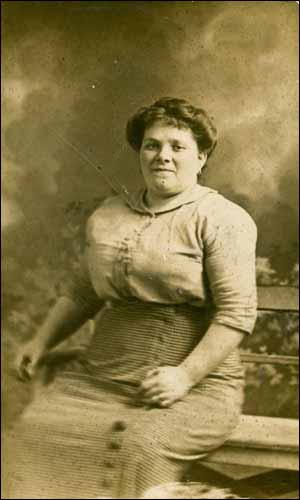 Mrs Noar

She added: "I wondered if it might be the children of the children, but then I assume they would have been born around 1930, so not the right age for the photos."

According to Janet's records, Joseph Noar, who was born in Russia in 1840, emigrated to England in 1886 and died in Manchester in 1937.

He had seven children — Lubbie Abrahams, Israel, Eli, Dora Cohen, Leah Goodenday, Maurice, and Leslie.

Israel's children were Lionel, Maurice, Sidney, Lawrence, Jenny and May.

Eli's children were Eli, Bella Montague, Ida Jackson, Nora Spiro, Rita Bell, Leonard, Annie Sampson and Neville.

Maurice's children were Janet's mother Rosabelle Wolff, Ralph, Jack and Michael. Leslie's children were Joseph, Rita Greenburgh and Arthur.

If you can solve the Noar family mystery, phone Carol on 0161-740 2753 or email Janet at janet.wolff@manchester.ac.uk
---
JOHN Ferguson is looking for school friend Evelyn Rappaport.
John moved to Glasgow from Cheshire around 1954 and went to Melville St Primary School in Pollokshields.
"Evelyn took me under her wing and pointed me in the right direction," he recalled.
"This was OK till one Friday in autumn, Evelyn and some other pupils got up to go home.
"I was told by the teacher to return to my seat as I am not Jewish.
"I moved to Shawlands and lost touch, about 1959."
Write to 12 Ferguson Ave, Prestwick, KA9 1BN or email iainandmay@gmail.com
---
JULIET Graves wants to contact Mike Olsberg. Juliet was born Amanda Potter, but was adopted in 1962.
Her mother was Jacqueline Potter. Juliet believes Mr Olsberg lived at 1 Middleton Road, Crumpsall, Manchester.
Email julietg154@gmail.com
---
THE Scottish Jewish Archives Centre is looking for information, papers, photographs about Dr Freda Ehrlich-Jacob, who went to Glasgow in the 1930s. She lived in Newark Drive and helped other refugees.
Email Harvey Kaplan at info@sjac.org.uk