The recently-formed group needs to raise £30,000 to continue its initial work and retain the services of an experienced project manager.
Donations have been made by the Swansea Hebrew Congregation, the Newport Mon Hebrew Congregation, Cardiff Reform Synagogue and the charity Pencare.
One anonymous well-wisher has offered to match funding for future donations up to £5,000.
Chairman David Lermon said: "Our aim is to record oral testimonies and memories of Jewish life in communities in all areas of south Wales, as well as the digitisation of CAJEX magazine, which flourished from 1950 to 1991, in order to make it widely available.
"There will also be a website to signpost all available resources, visual and oral, and an attempt to record all Jewish artefacts in public collections throughout South Wales."
Swansea's Jewish burial ground dates from 1768, making it the earliest physical evidence of Jews in Wales.
The Cardiff community began in the 1840s and there remain two synagogues, Orthodox and Reform, but with falling and ageing memberships.
Over the years, communities flourished in mining and industrial towns, such as Merthyr (1848), Pontypridd (1867), Newport (1869), Brynmawr (1889), Tredegar (1874) and Llanelli (1902).
There has also been at least one Nobel Prize winner in Brian Josephson (physics).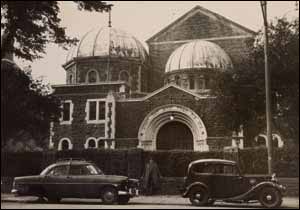 BYGONE DAYS: Louis Hamburg outside Cathedral Road Synagogue, Cardiff, in October 1962

"In order to raise the £30,000 necessary for a full year's operation, we plan to appeal for funds from individuals and from trusts and charitable foundations with roots in South Wales, and, possibly, also from the Heritage Lottery Fund," Mr Lermon added.

"There is likely to be a need for volunteers with relevant skills and sufficient time.

"Work started this month recording oral testimonies under the guidance of experienced project manager Klavdija Erzen."

The committee also includes Tony Blasebalk, Lisa Gerson, Laurence Kahn, Leonard Mars, treasurer John Minkes, Melody Odey and secretary Stanley Soffa.

To help, phone Mr Lermon on 07557 799933. Email david@lermon.org or klavdija.erzen@jhasw.org.uk

Donations via cheque and payable to JHASW can be sent to the treasurer John Minkes at 60 Barons Court Road, CF23 9DG. Donations can be subject to Gift Aid.
---
GEOFF Courtney is trying to find an old classmate for a school reunion.
Michael Cohen was a pupil at Highland's Primary School in Ilford in the early-1950s and subsequently at Bancroft's School in Woodford Green from 1955 until 1962.
Geoff, who started a career in journalism in 1961, believes Michael was at one time a lecturer/professor at Swansea University.
Email geoffcourtney@btconnect.com
---
MARSHA Gilbert, of Oregon, is searching for the family of Pollie Cohen, who died on September 19, 1912, at 17 Crimbles Street, Leeds.
Pollie was the sister of Nurse Cohen, Dan Cohen, Joe Cohen and Jack Cohen. She was married to Nathan Myers and lived in Harrogate.
Marsha is also trying to get back in touch with Sonia Tobias.
She was in contact with her but her email address no longer works. Sonia is the niece of Fay Cohen Balsam.
She is also looking for Hazel and Darryl Lipke.
Email firstwife22@hotmail.com