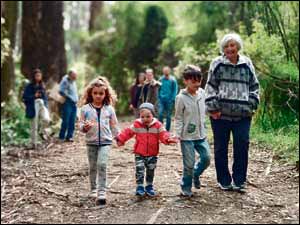 GENERATIONS: Beryl Nirens with great-grandchildren, from left: Mayan Sztrajt, four, one-year-old Tom Morris and Nadav Sztrajt, six

Debbie wants to meet cousins

DEBBIE Nirens, of Melbourne, is searching for family in Manchester.

Her mother, Beryl Nirens (nee Morris), now aged 85, was born in Newcastle-upon-Tyne in March, 1933. Beryl had a brother, Noel Morris, and their mum was Annie Morris.

Beryl moved to Australia in 1955 with husband Simon Nirens.

Debbie is visiting Manchester in May and would like to meet up with any cousins.

Email deb.nirens@gmail.com
---
JOYCE Gill is trying to trace the family of Leeds jeweller Arthur Conley.
Arthur moved to Bournemouth after his retirement, where he resided until his death.
He had a son, Malcolm.
Arthur was raised in Hightown/ Cheetham Hill, Manchester, around the 1950s, by Joyce's paternal grandmother Ella Cohen.
Her father, Sydney Cohen, was Arthur's half-brother.
Email joycegill45@outlook.com
---
MYSTERY surrounds the history of a wartime book which has been discovered in the deepest recesses of our editor's office.

The book, which appears to be the script of a radio broadcast, was created by "directors of programmes" Rosyln Kaplan and Pearl Klaff — members of the IVB Broadcasting Corporation.

It seems to be from the end of the Second World War and includes hand-drawn images and paintings.

The unnamed book also features names of "technical staff" such as Nancy Johnston, Rosemary Mathew, Celia Landsman and Marguerite Feinberg.

If you can shed light on the book or any of the names, call newsdesk 0161-741 2631 or email newsdesk@jewishtelegraph.com