RUSSIAN television programme Wait For Me is appealing for help from Jewish Telegraph readers.
The show - the Soviet version of Surprise Surprise - reunites families who have been separated. Their latest mission is to find the son of Ashurov Yaroham Shaliahovich (Ashinov Aslan Salihovich) who lived in Leeds until 1945.
His wife, Rose, was the daughter of Moshe (Moses) and Rahel (Rachel). Moses worked in a meat shop. In 1945, Ashurov returned to the Soviet Union - via Liverpool - and was imprisoned in Kazahkstan. In 1957 he returned to his native town Nalchik where he was told that he had a son in England.
Ashurov died in Nalchik 10 years ago. Wait For Me wants to find Ashurov's son to reunite him with his auntie, Elizaveta Ashurova, who lives in Moscow.
Another sister, Maria, lives in Berlin and a brother lives in New York.
Write to Olga Nikolaeva, Moscow, Frunzenskaya nab, 20 źD╗, telephone her on 2426377/81 or email Nikolaeva@vid.ru
---
BRENDA Habshush of Israel recently discovered that her paternal grandfather, Simon Bernstein, was born in 1870 in Kremenchug, south west Ukraine.
He arrived in Leeds during the 1880s married to Annie Lightman, sister of Victor Lightman. They lived in Fallowfield Terrace.
Brenda would like to hear from any other people in Leeds who came from Kremenchug and if any older people remember families from that part of the Ukraine.
Write to Brenda Habshush, Kibbutz Sde Boker, Israel or email brentsi@sde-boker.org.il
---
MARK Usden of Israel wants to find descendants of Phillip and Julie Doran, cousins of his late father.
Manchester-born Mark says Phillip and Julie were living at The Elms 120 Crescent Road, Crumpsall, Manchester, around 1951.
Julie died in 1993 and is buried in Agecroft Cemetery.
The Dorans moved to Manchester from London during the Second World War to escape the bombing.
They had six daughters - Celia married Jack Coppitch; Joan married Hyman Husdan, moved to Canada, divorced, returned to the UK and married her brother-in-law Jack Coppitch after the death of Celia; Rosa went to live in America; Hilda married Alf Forman; Eva married Monty Weston (Weinstein); Louise married an American serviceman and went to live in America.
Louise and Rosa came to England after Eva died but later returned to the US when Louise became ill. The last surviving daughter was Hilda Forman.
Write to Mark Usden, PO Box 5078, Netanya, 42150, Israel, telephone 972-9-8268984 or email dormark@netvision.net.il
---
DAVID Pearlstein of Las Vegas is looking for any relatives of Henrietta Levenson, nee Rosenthal, who died on February 21, 1983.
Henrietta married David's uncle Morris Levenson on June 8, 1929 in Leeds.
Morris died in November 1967 and is buried in the cemetery of the United Hebrew Cogregation on Gelderd Road, Gildersome, where Henrietta is also interred.
They had a daughter, Adele, who died soon after her birth in 1935. Henrietta had a sister Norah and two brothers Norman and Nick. David is also looking for anyone related to his grandparents Abraham and Annie Levenson of Leeds.
They had seven children, Max Isaac, Kate, David, Harris, Morris, Michael and Wolf (David's father) - all born in Leeds between 1891 and 1900 at 81 Concord Street.
Write to 1400 So Valley View Blvd, Apt 2067, Las Vegas, Nevada, USA 89102-1638 or email Dodger4r@aol.com
---
MALLORY Wober is looking for information on a person called Lobagola - whose eponymous book she recently picked up second-hand, and which was published by A Knopf in New York in 1930.
Lobagola's came from a Jewish tribe which he calls Emo-Yo-Quaim living in an area to the north of Ghana.
After hair raising adventures he moved to Glasgow around 1907/8; he recalls meeting a young man called Ansel and going to the synagogue, where he recited the Shema, much to the astonishment of the worshippers.
He served in the British Forces in Palestin and died in America.
Write to Flat C, 17 Lancaster Grove, London NW3 4EU or email wober@clara.net
---
PERRY Carroll of Mansfield wants to find out more about his Jewish grandmother Pressal Fogal.
Perry believes she was born in Lithuania around 1894. She came to England at the start of the 20th century, settling in Leeds and changing her name to Bessie.
She married Arthur Grosberg and had two children, Sylvia and Jack. Bessie died in Nottingham on November 28, 1941.
Write to 96 Lindhurst Lane, Mansfield, Nottinghamshire NG18 4JF or email perry.carroll2@ntlworld.com
---
KAJSA Aronsson of Sweden is trying to discover whether she has any relatives in Manchester.
Her grandmother was born in Manchester. Her grandmother's brother, cabinetmaker Louis Koffman was born in 1863 in Kovno. Louis' business was at 29 Portugal Street, Manchester. His family lived at Henry Street at that time. They then moved to Gt Ancoats Road and lived there until 1901.
He married Jane Jacobs and had children Florrie (1889), Lily (1891), Issac (1892), Russel/Ansiel/Arthur (1894) and Harry (1901).
Isaac married Zelda Hattenstein/Hattenstone in 1923 and had a daughter Estelle Koffman in 1924. Lily married a Ralph Bailey in Leeds in 1923.
Write to Kvarngatan 3B ipg, S-118 47 Stockholm, Sweden or email kajsa-a@swipnet.se
---
ELAINE Pomeransky of Edinburgh is looking for information on her family tree.
Her family lived in the East End of London, and her paternal grandfather owned a lemonade factory in Mile End. Elaine's uncle Monty Pomm now lives in the States.
She is looking for information on families named Pomeransky, Severchurski, Goldman and Fromovitch - although there is a rumour that this was an artificial name given to her great grandparents when they arrived in the East End as immigrants from Poland.
Elaine's paternal grandmother was Eva Goldman, who died on January 18, 1937. She was the daughter of Rose Silbert and mother of Jenny Goldman.
Eva's brother was Hyman Silbert who died August 23, 1959. Her children were: David Goldman, Samual Goldman, Hyman Goldman, Jenny Pomm (Elaine's grandmother), Leah Sugar, Pearl Wald, Rachael Lewis (later Benjamin).
Pearl, who died on August 24, 1942, had one child, Gerald Wald born on June 5, 1942.
Rachel Benjamin died on October 12, 1944. She had two children, Sheila Lewis and Eileen Lewis.
Write to 6/5 Restalrig House, 22 Restalrig Gardens, Edinburgh EH7 6HX , telephone 0131 652 0228, email elainepomm@yahoo.co.uk
---
HELEN Manley of Chesterton is researching the Jewish side of her family tree.
Her paternal great grandmother was Sarah Crown, born in Manchester in 1874.
Sarah's parents were Rose and Samuel, both born in Germany with a tailoring business in Cheetham Hill, Manchester.
There may also have been another daughter Theresa.
Write to 1 Church Lane, Chesterton, Warwickshire CV33 9LG and email manley@helenpaulcarl.freeserve.co.uk
---
NIGEL Sapherson of Hampshire is researching his family history and is looking for photographs of the Castletown area of Leeds from 1880-1930.
The family name is Sapherson but was changed from Pinsky by my paternal grandfather and stems from Belarus.
Email saphn@yahoo.com
---
SIDNEY Wander of Whitefield is looking for records and information regarding the Warsaw Synagogue that was above Zendle's Grocers on Bell Street or Waterloo Road in Manchester.
Write to 5 The Spinney, Whitefield, Manchester M45 7LZ, telephone 0161-796 3200 or email sidneywander@hotmail.com
---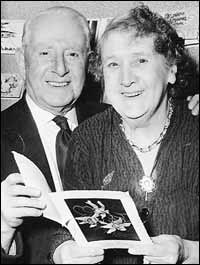 HOUSE OF FRASER: John Fraser (Frederick Frieser) and wife Blanche celebrate their golden wedding anniversary in December 1959
BARRY Fraser of Kent is researching his family tree.
His grandfather Frederick J Frieser was born in 1879 and known as John Fraser by 1901. He married Blanche in 1909.
Frederick's father, Hyman Frieser, was born in Manchester in 1855. He married Celilia in Cheetham. Cecilia was born in Birmingham in 1855.
The couple had at least two children in addition to Frederick -Louis, born 1880 who was an estate agent in the 1930s; and Eleanor, born 1884.
Both lived in Great Cheetham Street West for many years - until the early 1960s in Eleanor's case.
Hyman's parents are presumed to be Morris and Miriam, both born in Krakow, Poland in 1831 and recorded as residents of Manchester in 1871 with children Morris, Solomon, Elias plus others.
Telephone 01959 533396 or email barry.fraser@mbc.ae
---
To make an appeal, email MIKE COHEN at roots@jewishtelegraph.com Please include your home address.