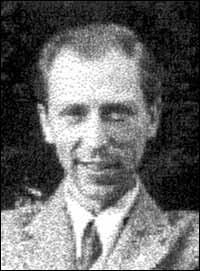 Jack Brooks
TWO Liverpool men want to find information about the city's first great popular music composer.
Writer and broadcaster Spencer Leigh and Michael Swerdlow, who is currently producing a documentary on the history of the Liverpool Jewish Community, are looking in to the life of Jack Brooks.
Amongst Brooks' work are That's Amore for Dean Martin and A Four Legged Friend for Roy Rogers as well as writing the standard Ol' Buttermilk Sky with Hoagy Carmichael.
"Very little is known about his early life because he did not dwell on his origins once he got to Hollywood and even his family knows little," says Michael.
The Bruches family arrived in Liverpool from Russia around 1910 and changed their name to Brooks.
Jack was born in Liverpool on February 14, 1912 and his father went to America to seek work.
In 1916 his mother, Fanny Brooks, arrived on Ellis Island with her children Ethel, 11, Abe, 10, Esther, 8, Sydney, 7, Hyman, 5, and Jack, 4.
Jack died in Hollywood on November 8, 1971.
"How Jack landed in Hollywood and became a top lyricist is unknown," Michael said.
"With Liverpool becoming the European Capital of Culture in 2008, it would be tremendous to claim a Hollywood composer as our own. Can anyone fill in the blanks, especially about the family's time in England?"
Contact Michael on 0151-707 1002 or michael@swerdlow.co.uk
---
A former soldier would like to hear from relatives of Private Alec Leslie Cohen of Manchester who died in Burma on February 14 1945 so that he can have permission to say Yizkor for him.
Manny Curtis was with the 2nd Battalion of the South Lancashire Regiment in Burma. He remembers two Jewish soldiers from Manchester being killed as they crossed the Irrawaddy River.
Manny writes: "I am going back to Myanmar, formerly known as Burma, in February and I hoped to say Yizkor in their last resting place.''
He was able to trace Private Harry Samberg's relatives because it was an unusual name but he has had difficulty tracing relatives of Private Alec Leslie Cohen.
If you can help contact Judith Hayman at the Jewish Telegraph on 0161 740 9321 or email jhayman@jewishtelegraph.com
---
RALPH Bloch of Canada is researching the Einstein family from Fellheim in Bavaria.
Adolphe Einstein, a silversmith, moved from Ulm to England in the 1870s. He and his wife Maria had four sons - Ralph, Samuel, Theodore and Alfred.
The parents died in the 1880s. Ralph died in 1893 during an epidemic in Gravesend.
The three others changed their names to 'Instone' and became very successful. Sir Samuel died in 1937 and Alfred in 1957.
Samuel had five daughters; Theodore, had at least one son; Alfred had two sons and a daughter.
Write to 14 Ormerod Close Dundas, Ontario L9H 7N7, Canada, or email him at rablo07.cogeco.ca
---
RACHEL Morley of New Zealand would like to find descendants of Annie Elizabeth Levy.
Annie was the sister of Rachel's great-grandmother Miriam Levy. They were among the eight surviving children of Solomon and Jane Levy.
Annie was born on June 24, 1852 in Wellington, and died on April 3, 1914 in Wellington. She is buried in Karori Cemetery.
Her husband was Folk Cohen, born around 1845 in Marylebone, London. He died on April 28, 1915 in Wellington and is also buried in Karori Cemetery.
His father was Lewis Cohen, and his mother Elizabeth Lyons.
Annie and Folk had two children, both born in Wellington - Lewis Albert Cohen (born 1875) and Leah Gladys Cohen (born 1889).
Leah died on July 30, 1974 in Wellington and is buried in Karori Cemetery. Her husband, Harry Cane, died on October 30, 1961.
The daughter of Leah and Harry Cane, Coralie Cane, was born in 1914, and married Samuel Jacob Spiro in December 1938 in the Jewish Synagogue in Wellington.
Samuel was born in 1912, and died Nov 7, 2001. The five children of Coralie and Samuel Spiro were Allan, Janet, Murray and twins Eve and David.
Write to 110 Cecil Rd, Wadestown, Wellington, New Zealand or email Rachel.Morley@vuw.ac.nz
---
MIKE Ross of Australia would like to hear from anyone in the UK who may be related to any of the Amadur clans or may have knowledge of some of the early Amdurs from Hessel St, London, the Midlands or Scotland.
He is also looking for descendants of Louis Greenberg, who married Esther 'Soupgreens' Tabacovich; the Kaminski family, especially anyone related to Annie Kaminski who married Joseph Rosenberg just before the turn of the 20th century; and any relation of Joseph Rosenberg.
Write to 9 Walney Avenue, Dianella, Perth, WA, 6059, Australia or email mister@graduate.uwa.edu.au
---
RUBY Grose of Australia is trying to compile a history of her husband Harry's family without any success.
Harry was one of five children, four of whom are deceased.
His siblings were Raphael, Lillian, William and Samuel. They were the children of Abraham and Esther (nee Cohen) Grose of Salford.
Abraham and Esther Grose were married at the Holy Law Beth Aaron Synagogue,Red Bank, Manchester on May 30, 1909.
Abraham was the son of Hyman Grose and Esther was the daughter of George Cohen.
The family came to Australia on the Largs Bay arriving in Australia in either May 1926 or May,1927.
Write to Apartment 411/1286 High Street, Malvern 3144, Melbourne, Victoria, Australia or email ruby1924@tpg.com.au
---
JOHN Granger of Canada wants to trace his roots to confirm if his relatives were Jewish.
If he can prove his Jewish heritage he can represent Israel in ice hockey at the Winter Olympics.
His parents were Cornelius Andrew Granger and Alice Elizabeth Goulding, while his grandparents were Alice and Cornelius Goulding.
Cornelius, who worked at a potters in Glasgow, died as a result of a knife fight in Glasgow.
John's great grandfather, Charles Goulding, was also from Glasgow.
One of John's relatives still living in Glasgow is Rodney Organ, who owns an interior decorating and painting firm.
Write to 2976 Sunbury Rd, RR# 2 Inverary, Ontario, Canada, K0H 1X0 or email granger@1000island.net
---
MARION Isabel Exner nee Leon of Canada wants to establish family and ancestral ties with descendants of Alfred Leon who born in France.
Alfred's parents were Rosa and Jules Leon.
"Alfred married my mother May in 1939 and disappeared from our lives in 1946 plus he was born in France maybe Bologne," Marion said.
Write to PO Box 1121, 215 Topaz Cres, Logan Lake, BC V0K 1W0, Canada, telephone 250-523-2304 or email exnerma@aol.com
---
Jacqueline Lerner-Aderman of Oregon wants information on Meyer Lerner and Goldie (Wenger) Lerner who arrived in New York in 1904 from Russia.
The couple had three children, all born in the America.
Write to 10685 SW Park St, Tigard, OR 97223, USA or email saralynn7@yahoo.com
---
Stephen Pickholtz of New Jersey is doing genealogy research on his family name.
"I have found a few, living in England, but not much more than their names," he says.
"One is a boy, named Jacob S Pickholtz, age 13, a citizen of Russia, who was a student at the Industrial School for Jewish Boys in Hayes.
"This information came from the 1901 census. Nothing else is known about him.
"Another find, deals with the family of Annie (nee Bedder) and Jacob Pickhol(t)z, and Mary, born 1896, and Becky, died in 1898, at the age of two. Based on this, I believe they are the same child.
"Jacob also died in 1898, aged 40. He was in the cigar and cigarette making business. Annie died in 1900, age 32, and is buried in Plashet cemetery.
"Morris Silberman was the informant on her death record. The father and daughter are not buried with the mother according to the cemetery. All efforts to find their burial locations have failed."
Stephen would also like to hear from any other Pickholtz or alternate spellings.
Write to 4 Mark Lane, Tabernacle, New Jersey, USA or email nj55turtle@aol.com
---
ALAINE Bastow of Canada is searching for ancestors who lived in London and Manchester in the 1800s.
The names are Beyfus, Boss, Cohen, Hollender, Myers, Garcia and Alexander.
Write to 2859 130 Street, White Rock BC, Canada V4P 1J7 or email a.bastow@shaw.ca
---
MARGE Goldin of New York is seeking descendants of two branches of her UK family.
Her great great grandmother, Esther Fisher, appears on the 1901 London census married to her second husband, Adolf Friedman. Living in the same household was Adolf's son, Israel, who was 13.
Marge would like to locate members of Israel and Adolf's family to find out if they can give her any information about the death of her great grandmother.
She would also like to learn more about the descendants of Nathan and Deborah Goldman Levy.
They were originally from Kutno, Poland, and had the following children - Samuel (born in Poland in 1873), Emanuel (born in London in 1875), Sarah (born in 1881 in London) and Leah (born in London in 1884).
Write to 74 DeForest Road, Dix Hills, NY 11746 USA, or email DRGOLDIN90@aol.com
---
JOAN Breslow of California had relatives who resided in Liverpool in the late 1800s-early 1900s.
The only names she has are Phillip and Leah Goodman, originally from Belarus.
They had at least two children born in Liverpool - Bessie and Irving.
Write to 4237 Roadrunner Rd, San Marcos, California, USA 92078 or email webjoandog@earthlink.net
---
CECIL Renfield of Australia was born in Manchester in 1921.
His family was originally named Rosenfield and Cecil was the youngest of five children born to Raie Cohen and Joseff Rosenfield who were married in 1904 in London's Great Synagogue.
Raie was one of 10 children born to Ellen Landau and Meyer Cohen (Jacobson). Cecil's father had three sisters - Mathilde, Frances-Tobia and Hannah-Rose.
Write to 76 Fern Street, (PO Box 261), Gerringong, NSW, Australia 2534 or email renfieldc@shoal.net.au
---
Harvey Kaplan of Glasgow is trying to reunite Mickey Nathan in Israel with long-lost cousins, Barry and Jeffrey Nathan. The surname may have been changed to Newton.
Email information to harvey@hkaplan.freeserve.co.uk or telephone 0141 649 4526.
---
JILL Anderson is searching for her cousin Maurice Andrews (Abrahamson) of London, NW10.
Maurice is the son of Marks and Clara.
Email jill.anderson@virgin.net or telephone 020 8361 9646.
---
PAVEL Bernshtam of Israel is searching for descendants of Leib Fiksman, who emigrated from Russia to England around 1913.
Write to Maginei HaGalil Str 51/27, Rehovot, Israel 76200, telephone 00972-54-583675 or email javaap@gmail.com
---
SHLOMO Melchior of Israel is seeking the descendants of Max Rosenberg, born in Niedermeiser or Kassel (Hessen) Germany on April 11, 1874.
Max, right, was the son of Simon Rosenberg and Frieda Heinemann, and had at least three brothers - Siegfried, Arthur and Paul.
The family ran a grain/timber business.
Write to PO Box 941, Arad 89109, Israel, telephone 972 8 995-66-87 or email mlchior@zahav.net.il
---
To make an appeal, email MIKE COHEN at roots@jewishtelegraph.com Please include your home address.