LOTHAR Himelstaub was 13 when he arrived in Glasgow in 1939 as one of the Kindertransport refugees.
Now, 66 years later, he is hoping to find survivors among the ladies of Garnethill Synagogue "who looked after all our needs".
The reason for his search, he says from his home in Queensland, Australia, is to enable him to "show his appreciation" for what the ladies did for him, and the children who came with him.
His appeal for information came to Garnethill as it was in a hostel adjacent to the synagogue that many Kindertransport children were cared for.
Lothar, who changed his name to Les Hillman, recalls some names from so long ago - Heinz Bieberfeld, Henry Herner, a staff member from Germany, Mrs Marchant and her young son.
Mr Hillman said: "I arrived in the UK in April or May 1939. After a short stay in London I was taken to Glasgow and accommodated in a hostel adjacent to the Garnethill Synagogue.
"I stayed in Scotland about two-and-a-half years then went to London to study engineering.
"In the course of time I was called up and served in the army for three years.
"After army service I went back to engineering and in 1954 my company sent me to Australia where I am now living with my wife on the Gold Coast of Queensland.
"It would be marvellous if I could contact someone from my days in Glasgow, where I was looked after so well. I have a sister, Mrs D Nass, and nephew Harold Nass living in London."
The Kindertransport children's medical officer during their stay in Garnethill was Dr Sidney Naftalin, a long-time member of the synagogue.
He was "recruited" by his wife Marjorie's sister, Mrs Dora Woolfson, one of the founders of the ladies' group to which Mr Hillman refers. The other founder was Mrs Elsie Heilbronn. Sadly, all of them are no longer alive.
Anyone who thinks they knew Lothar Himelstaub is asked to phone Henry Diamond on 0141-633 3850.
---
HELEN Manley of Chesterton is looking for descendants of the Goldman family who lived in Birmingham in the 1860s.
Helen's paternal great-great grandmother was Rosa Goldman, born 1845 in PreuBen. She and her husband, Samuel Knonheim, were married in Hull in 1867 and lived in Birmingham until sometime in the 1870s.
The 1871 census shows a number of Goldmans in the same area at that time.
Write to 1 Church Lane, Chesterton CV33 9LG or email manley@helenpaulcarl.freeserve.co.uk
---
SIMON Hesselberg of West Sussex is searching for relatives of Fanny Elkan nee Hesselberg, widow of Philip Elkan who died on March 25, 1941 at Otley, Yorkshire.
Lilian Elkan, born 1886, who lived at 16 Malborough Drive , Leeds 7 had several brothers and sisters - Annie (born 1885), Harry (1890), Isidore (1891), Morris (1892) and Gertrude (1896).
The family was originally from Liverpool.
Write to 12 Eastern Avenue, Shoreham by Sea, West Sussex BN43 6PD or email rexash@aol.com
---
HARRIET Adler of New York is researching her family tree and wants to ensure she is not missing any members.
The names she is researching are Lambersky/Lembersky (Boslev/Boguslav, Kiev, Ukraine), Medwinsky (Kiev, Ukraine), Mogilewsky (Russia), Waldman (Bolechow, Galicia and Russia, Ader-Rzeszow,Galicia) and Fischbein (Galicia).
Write to 167 Fifty Acre Road South, Smithtown, NY 11787-2034 or email Fishflash@aol.com
---
DENISE Fletcher of Australia is trying to locate Gerry Amdor, whose grandmother, Bessie, was the oldest sister of her late grandfather, Benjamin Fletcher (born in Lithuania).
Denise believes Bessie lived at 9 Curzon Road, Southport, and Gerry's father was called Jack.
Gerry also had an aunt called Ann Hyman. He was the former head of Caxton Tower Wine Distributors.
Write to 8/57 Gilderthorpe Avenue, Randwick NSW 2031, Sydney, Australia or email denfletch@bigpond.com.au.
---
DEBBIE Wang Etzion of New York has been researching her father's family roots for 24 years.
Samuel Hersch Wang (known as Goldberg) was born in Sanok, Poland. He visited England in the 1960s and found his first cousin, the son of Yaakov Reches.
Yaakov was born in Sanok, Poland in 1905 and died in 1982. This cousin changed his name and the families didn't keep in touch.
Debbie's father died many years ago and, as a result, she never learned the name of his first cousin.
This cousin may have come to England on the kindertransport.
Write to 15 Henhawk Rd, Great Neck, NY 11024, USA or email DebWE308@aol.com
---
SID Grant of Manchester and Cecil Renfield (Rosenfield) now in Australia wish to trace the descendants of Tilly (Mathilde) Kerbel (nee Rosenfield) and husband Solly.
The couple had six children named Edith, Rachel, Sarah, Lazzie, Mully and Jane. The family lived at 263 Waterloo Road, Hightown, Manchester in the 1930s where Tilly had a second hand furniture shop.
Sid's grandmother was Leah Kerbel, the sister of Solly's father Harry.
Email sidgrant@aol.com, renfield@shoal.net.au or telephone 0161-227 9654.
---
WILMA Solomon of Florida is looking for information about her grandparents who married in London around 1904.
Abraham Silkoff (Snelnikoff/Snelnick) and Rebecca Adelstein moved to America soon after.
Wilma wants to find when and where they married.
Write to 7500 N Devon Dr, Bldg H, Tamarac, FL 3321, USA or email wilma828@juno.com
---
DAVID Reeve of Utah has discovered that his great-grandfather was a rabbi in Cheetham Hill, Manchester in the 1890s until his death in 1918.
Hershel (Harris) Brodofski(y) (Brody) came to England in the 1880s from Riga.
Write to 1813 E Hidden Meadows Dr, Apt 3J, Holladay, Utah 84117, USA or email DvJos8@aol.com
---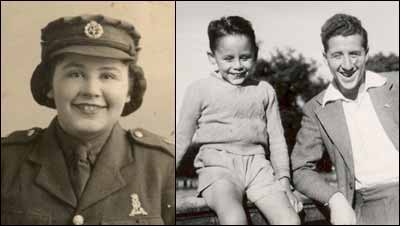 LEFT: Ilse Frostwick (nee Kaiser)
RIGHT: Jeremy Frostwick
GEOFF Kaiser of Australia is searching for Jeremy Frostwick or his children.
Jeremy, who will be around 62, is pictured when he was aged eight in 1951 with his Australian uncle Ralph Max Kaiser while visiting the UK.
Jeremy's mother was Ilse Frostwick (nee Kaiser), pictured in 1942.
Ilse, who died in 1965, was the only daughter of Erich Kaiser and Nancy Wolf from Unruhstadt in
Germany. This town is now called Kargowa and is in Poland.
Both Erich and Nancy died in the Holocaust, but Ilse escaped to England.
Write to 40 Hillside Road, Rosanna 3084, Victoria, Australia, telephone 03 94584807 or email Geoff_Kaiser@hotmail.com
---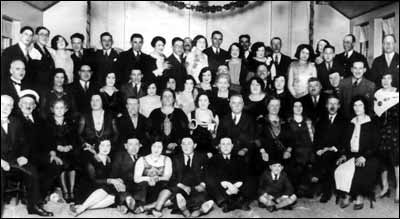 The Goldenberg family gather for a 21st birthday party in the 1920s
MYRA Waddell is searching for descendants of her Goldenberg family who lived in Liverpool sometime after the 1901 Census.
In March 1901, they lived in London, where they had moved to from Paris, France.
The family was in the tailoring trade. The family consisted of parents Hyman and Leah, children Leon, Henry, Rebecca (Beckie) and Jack.
Henry married Leah and had a son, Joe, born about1914. Joe married Lilian.
Write to 26 Ashmore Road, Bellevue Heights, South Australia, 5050 or email myra@waddell.id.au
---
To make an appeal, email MIKE COHEN at roots@jewishtelegraph.com Please include your home address.