A COUPLE who met through the Jewish Lads' and Girls' Brigade married in Glasgow.
Joanne Gladstone and Robert Rams were married by Rabbi Moshe Rubin at Giffnock and Newlands Synagogue.
The bride, a town planner, is the daughter of Steven and Michele Gladstone, of Glasgow, while Robert, Chief of Staff to the Conservative Party in the London Assembly and a local councillor in the London Borough of Barnet, is the son of Tony Rams, of London, and the late Marion Rams.
Best man was Elliot Jacobs, while ushers were Lee Sidney, Jason Braier, Anthony Lewis, Rusty Newman and Joanne's brother Michael Gladstone.
Bridesmaids were cousins Yael Gladstone and Samantha Gordon and flower girl was cousin Amy Spilg.
Robert's paternal grandmother Lillian Rams and Joanne's paternal grandfather Myer Gladstone were at the simcha, along with guests from Israel, America, Australia, Canada and Turkey.
Robert's sister Caroline Rams was an unterfuhrer for the groom.
The couple, who have been together for five years, are still actively involved as leaders at JLGB. They honeymooned in Hong Kong and Bali and have settled in London.
---
THERE was a distinctive Scottish flavour when Eldan Kaye married Hila Melamed Lemkow in Bet Shemesh, Israel.
For the groom's father and grandmother are both from Glasgow. Eldan, a national programmes director for a company that integrates Ethiopian Jews into Israel, is the son of Devorah and Jeff Kaye, of Jerusalem, while Hila, the daughter of Miki and Danny Melamed Lemkow, of Tel Aviv, is a school departmental head.
Making the trip from Scotland were the groom's grandmother Rosalind Kaye, of Newton Mearns, his brother David, sister-in-law Karen and niece Julie.
After a honeymoon in Italy, the couple have settled in Jaffa.
---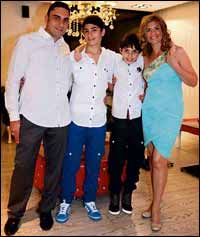 CELEBRATIONS: Daniel Ruhan, second right, with parents Chaim and Eleanor, and brother Ben in Netanya
DANIEL Ruhan celebrated his barmitzvah in Israel and England.
The son of Chaim and Eleanor Ruhan, of Alwoodley, Daniel read his barmitzvah portion at Etz Chaim Synagogue.
And the Manchester King David High School pupil enjoyed parties with family and friends in Netanya and his hometown community centre.
Daniel enjoys football and socialising.
Grandparents Alan and Frances Alster, of Leeds, together with a large contingent of Israeli family attended all the simchas.
Grandma Rita Ruhan travelled to Leeds with relations Lisa and Yitzchak Aharon, their children Tohar and Noya, and cousins Liel and Frankie Bilmen from Petach Tikva.
Daniel's brother Ben, 14, also attends King David High School.