Picture: 123 Photography
QUALIFIED life-saver Danele Evans celebrated her batmitzvah at the United Hebrew Congregation on Shabbat.
The daughter of Amanda and David Evans, of Alwoodley, Danele is a pupil at the Grammar School at Leeds.
Danele enjoys swimming and recently attained a life-saving qualification. She also loves reading, dancing, singing, art and Guides.
Present were grandparents Karen and Carl Evans, Marilyn and Jeffrey Cohen and great grandmother Fay Taylor along with guests from Israel.
Danele has a twin brother, Addi, who also attends GSAL.
---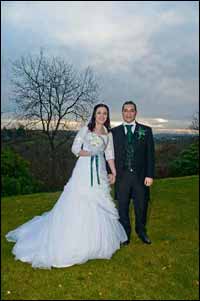 PICTURE: SUNSHINE PHOTOGRAPHY
PDR Melissa Robbin and Jason Fletcher were married at the Carnbooth House Hotel, Carmunnock, by Rabbi Moshe Rubin.
Melissa, who has just attained her PhD in reproductive immunology and is pursuing a career in scientific writing, is the daughter of Jackie and Joe Robbin, of Glasgow, while geophysicist Jason is the son of Lainie and Adrian Fletcher, of Southport.
Best man was the groom's brother Marcus Fletcher. Best maid was the bride's sister Stacey Robbin and bridesmaid was Gaby Fraser.
Joing in the celebrations were grandparents Phyllis and Monty Cowen and Maurice Robbin.
The couple honeymooned in Las Vegas and Los Angeles and have settled in Essex.
---
SPORTY Benjamin Golodnitski celebrated his barmitzvah at Harrogate Synagogue on Shabbat.
The St Aidan's High School pupil is the son of Mikki Golodnitski, of Harrogate.
Benjamin enjoys football, Xbox, athletics and reading The Economist.
Grandparents Linda and Ronnie Sellman, of Harrogate, together with great grandma Betty Brown, of Leeds, attended the simcha.
Benjamin's sisters, Alice, 17, and 15-year-old Hannah also attend St Aiden's.