JAMIE LEVY found the Big Apple to his taste when he met Erin Gordon there four years ago.
The Mancunian was in New York on a business trip when he found love.
And the couple were married in Cannes, France, by Nice Chabad Lubavitch's Rabbi Yossef Yitschok Pinson.
Jamie, the son of Barbara and Sydney Levy, of Prestwich, is a management consultant, while senior events' organiser Erin is the daughter of Esther Gordon, of New York City.
Best men were Mark Cohen and Michael Shroot. Bridesmaids were Shira Gordon, Madelyn Borders, Taba Kashanian, Shayna Gordon and Glory Gordon.
Guests joined in the celebrations from Britain, America and Belgium. After a honeymoon in France, the couple will settle in London.
---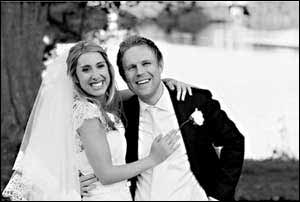 Picture: Lisa Aldersley Photography
MICHELLE FERSTER was James Sterling's perfect girl next door - literally. The couple grew up next to each other in Hale, Cheshire, but they didn't fall in love until two years ago.
They were married at Mere Golf and Country Club by Hale and District Hebrew Congregation's Rabbi Joel Portnoy.
Law firm office manager Michelle is the daughter of Sharon and Warren Ferster, of Hale, while lawyer James is the son of Diane and Bobby Sterling, also of Hale.
Best man was Jonathan Isaacs. The bride's sister Nicola Kaye was maid of honour, while Michelle Coull was bridesmaid. The groom's niece Zara Jeffries was flower girl.
The bride's grandparents Nan and Chaim Ferster and the groom's grandmother Rose Citron joined in the celebrations. After a honeymoon in South Africa and Mauritius, the couple have settled in London.