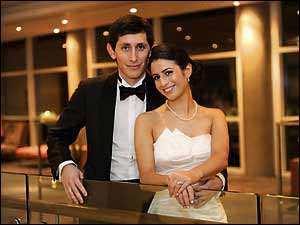 Picture: John Brandwood
SOLICITORS Abigail Zoltie and Simon Mattison made it legal when they married at Whitefield Hebrew Congregation.
They met five years ago through Alex Cohen - who was the groom's best man.
Abigail is the daughter of Judy and Richard Zoltie, of Whitefield, while Simon is the son of Charmaine and Mark Mattison, of Hale.
Bridesmaids were the bride's sisters Nicola and Natasha Zoltie and the groom's sister Chloe Mattison.
Joining in the celebrations were the bride's grandmother Shirley Goldbloom, of Cardiff, and the groom's grandparents, Jeannette and Charles Livingstone, of Leeds, as well as friends and family from America, Canada and Australia.
The couple honeymooned in Sri Lanka and the Maldives and have settled in Altrincham.
---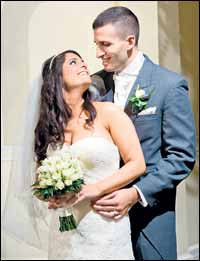 PICTURE: CHARLES YACOUB
THE north-south divide was united at the marriage of Stephanie Sheffrin and Daniel Laming at the Old Swan Hotel in Harrogate.
Internet marketing company director Daniel is the son of Arlene and Terry Laming, of London, while Stephanie, who is from Leeds, is the daughter of Robert Sheffrin, of Bowdon, Cheshire, and the late Karen Sheffrin.
The groom's brother Michael Laming was best man and the bride's sister Rachel Sheffrin was maid of honour.
Bridesmaids were Breanna Large and Judy Tumber.
Stephanie's grandparents, Judith and Stanley Sheffrin, were at the simcha along with her aunt Dee from Melbourne, guests from Israel, Serbia and Bulgaria.