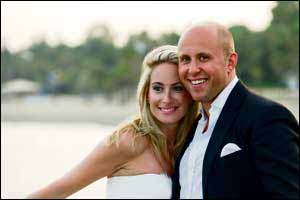 Picture: David Toms
A BEACH was the backdrop to the wedding of Dr Stacey Palastrand and Robert Niman at La Cabane, Los Monteros, Marbella.
Rabbi Meir Ohayon, of Marbella Synagogue, and Chazan Noki Roberts, of Gibraltar, officiated at the sunny ceremony.
Locum general practitioner Stacey is the daughter of Lorraine and Ian Palastrand, while property developer Robert is the son of Beverley and Jeff Niman. Both families are from Whitefield.
The couple were introduced by Robert's mother three years ago.
Stacey's sisters, Sasha Palastrand and Serena Palastrand Orgin, were bridesmaids. Best men were Yoni Abramson and Zac Goodman while pageboys were Felix Berman Wald and Jagger Orgin.
Guests travelled from Miami, Israel and Britain for the simcha. Following a honeymoon in Tenerife, the couple have settled in Whitefield.
---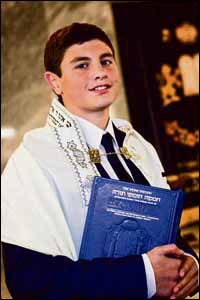 Picture: Robert Clayton
MANCHESTER City season ticket holder Sam Green celebrated his barmitzvah at Heaton Park Hebrew Congregation.
The son of Hayley and Adam Green, of Whitefield, plays football for Manchester Grammar School's under-13 team and also enjoys water polo.
Sam was joined on his big day by 11-year-old brother Ben, grandmother Bernice Showman and grandparents Val and Jack Green, of London.
---
Picture: Robert Clayton
JACOB JUPE enjoyed a barmitzvah celebration with a difference.
For the Whitefield youngster held a party to mark his special occasion at The Birdcage night-club in Manchester.
Jacob, a Manchester City fan, was barmitzvah at the Holy Law Congregation, Prestwich.
A King David High School pupil, he has a 15-year-old sister, Eden.