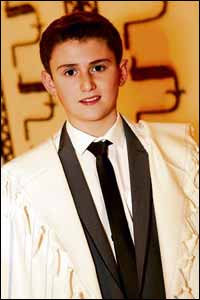 Picture: flix 'n' pix
TALENTED sportsman Max Adler celebrated his barmitzvah at Beth Hamidrash Hagadol Synagogue on Shabbat.
A regular for Leeds Maccabi, Max also plays football, cricket, tennis, rugby, table tennis and hockey for Grammar School at Leeds.
And for good measure, the son of Helen and Jonny Adler, of Alwoodley, also plays cricket for Collingham and golf at Moor Allerton Golf Club.
Great-grandmothers Lila Phillips, of Leeds, and Irene Edwards, of Birmingham, together with grandparents Michael Black, of Leeds, and Michael and Pamela Adler, of Manchester, joined guests at the simcha.
Relatives travelled from Israel and all over the UK for the big day.
Max has a 15-year-old sister, Lucy, who also attends GSAL.