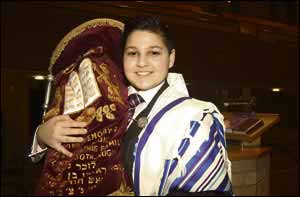 Picture: Stuart Rabinowitz
SPORTY baker Ethan Judah celebrated his barmitzvah at Etz Chaim Synagogue.
The Manchester King David High School pupil is the son of Saul Judah and Deborah Judah. Ethan's hobbies are golf, rugby, badminton and baking.
Grandparents Pamela and Melvyn Sumroy, of Leeds, joined guests from America and Israel at the simcha.
Ethan has two brothers, David, 16, who attends Notre Dame Sixth Form College and 14-year-old Reuben, who is also at King David.