FINANCIAL adviser Jonathan Rose had it all figured out in August, 2011, when he met Israeli Ilanit Hugali - whom he has married in Rehovot.
Mancunian Jonathan was introduced to his future bride by work colleague Chen - Ilanit's sister. Jonathan is the son of Barbara and Richard Rose, of Sunnybank, while travel agent Ilanit is the daughter of Carmi and Efi Hugali, of Kiryat Ono.
Best man was Jonathan's brother Robert, who lives in Chicago. Bridesmaids were the bride's niece Yuval Gal and the groom's niece Livia-Mimi Rose.
Joining in the celebrations were Jonathan's grandmother Margit Cohen and guests from England, Spain and America.
They have settled in Tel Aviv.
---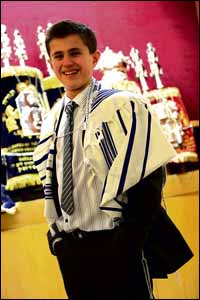 Picture: Flix 'n' pix
A TRIP to New York inspired Ethan Joe Cosky when he celebrated his barmitzvah at Prestwich Hebrew Congregation.
Ethan's barmitzvah party featured a seven foot Statue of Liberty, as well as a New York skyline.
The King David High School pupil is the son of Andrea and Julian Cosky, of Prestwich.
He attends the 401st Manchester Scout Troop and is also keen on architecture.
Joining in the fun were brothers Theo and Jamie and grandparents Linda and Gerald Black and Megan and Lewis Cosky.
---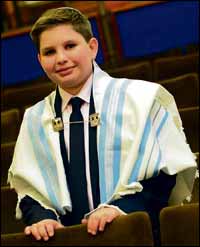 Picture: Flix 'n' pix
BRADLEY COHEN celebrated his barmitzvah at the United Hebrew Congregation on Shabbat.
The son of Lynne and Mark Cohen, Bradley is a pupil at the Grammar School at Leeds.
Among his hobbies, Bradley cites golf and football as his favourite.
Grandparents Jill and Maurice Drazen and Adele and Brian Cohen, all of Leeds, attended the simcha with guests from Israel.
Bradley's 16-year-old sister Emily attends Gateways School.