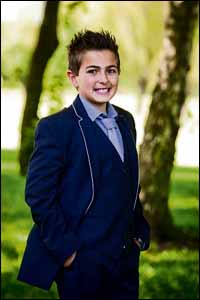 PICTURE: ROBERT CLAYTON
MANCHESTER United fan Jack Cook proved to be a winner when he celebrated his barmitzvah.
Jack, the son of Rachel and Mark Cook, of Radcliffe, was barmitzvah at Whitefield Hebrew Congregation.
The King David High School pupil was joined on his big day by younger sister Katie and grandparents Jean and Al Cook and Marilyn and Bernard Basso.
Also present was great grandmother Sadie Cohen. Jack's great grandfather Bernie Cohen, who was a founder member of Whitefield Hebrew Congregation, died in December.
Jack also plays football for Manchester Maccabi.
---
SPORTY Caitlin Newdall celebrated her batmitzvah at the United Hebrew Congregation on Shabbat.
The daughter of Amanda and Steven Newdall, of Alwoodley, Caitlin is a pupil at King David High School, Manchester.
Caitlin loves netball and running, in both of which she has represented King David.
Grandparents Pat Newdall, Gerald and Gloria Harris were present at the simcha.
Caitlin has a 14-year-old sister, Sophie, who also attends King David, and a five-year-old brother, Thomas, who attends Brodetsky Primary School.
---
JEMIMA Dover celebrated her bat chayil last month at Garnethill Synagogue.
She followed the ceremony with a party at the home of grandparents John and Suzie Dover.
Jemima, the daughter of Carolyn Dover and Richard Dover, has a sister Kezia, 14.
Jemima, a Calderwood Lodge P7 pupil, will be attending Mearns Castle High school in August.
She likes netball, drawing and socialising with her friends.
She is member of the UJIA Bar /Bat Mitzvah Twinning Club and is a girl guide.