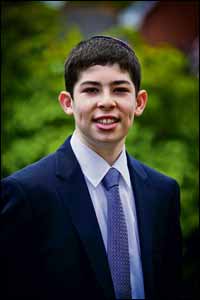 PICTURE: ROBERT CLAYTON
FUN was par for the course when keen golfer Ariel Marks celebrated his barmitzvah.
Ariel, the son of Jane and Daniel Marks, was barmitzvah at Stenecourt Synagogue.
A pupil at Yavneh Boys, he was joined on his big day by sisters Sivan and Carmel and brother Gav.
His grandparents Julie and Harvey ShoWman and Rachel and Geoff Marks were also present.
---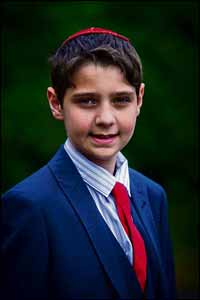 PICTURE: ROBERT CLAYTON
ASPIRING magician Oliver Bredski pulled the rabbit out of the hat when he celebrated his barmitzvah.
Oliver, the son of Michelle and Martin Bredski, of Prestwich, was barmitzvah at Prestwich Hebrew Congregation.
He was joined by 15-year-old sister Rachel, as well as grandparents Shirley and Cecil Bredski, of Liverpool, and Norma and Alan Domnitz, of Manchester.
A pupil at Manchester Grammar School, Oliver is an avid sportsman and plays golf and squash.
---
Some 31 girls from Whitefield Chabad were barmitzvah at Beis Yaakov Jewish High School. More than 500 guests enjoyed a buffet. Rabbi Shmuli Jaffe blessed the girls who all shared ideas from their learning with those present
---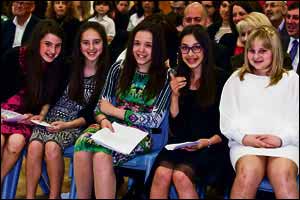 PICTURE: ROBERT CLAYTON
Coco Hinde, Alicia Chapman, Caitlin Newdall, Saffron Freeman and Lana Dean, who graduated in King David High School's bat chayil ceremony in front of family and friends on Sunday
---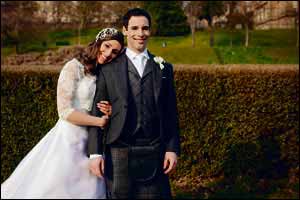 PICTURE: Christopher Currie Photography
TRUE love was found back in Glasgow for Madeleine Green and Richard Coates, who married at Garnethill Synagogue.
Richard had been travelling for a number of years while Madeleine lived and worked in Edinburgh. But romance blossomed after they both settled back in their home town a couple of years ago.
Helping the couple celebrate were Madeleine's parents Moira Barnett and Stanley Green, grandmother Connie Green and brother Daniel Green and Richard's mother Lorraine Kersh, father Victor Coates, sister Michelle Lustig and grandfather Sydney Mayer.
Anthony Mitchell was best man with Marissa Green as best maid and Gabrielle Barnett and Lisa Hecht bridesmaids.
There were six ushers, from Glasgow London and Australia and family and friends came from around the world to attend the simcha.
Madeleine is an accounting lecturer at Glasgow City College while Richard runs his own health, fitness and well-being business.
---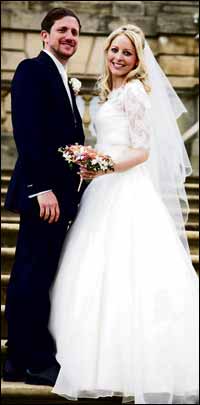 PICTURE: Ruthless Images
THE north-south divide was bridged at the wedding of Simone Lee and Adam Colp at Beth Hamidrash Hagadol Synagogue.
Sales manager Simone is the daughter of Linda and Martin Lee, of Alwoodley, while graphic designer Adam is the son of Avis and Maurice Colp, of London.
Grandparents Thelma and Joe Lee together with Adrienne and Louis Harris joined guests from America, Australia and France.
Best men were Jonny Harris and Nick Goldberg. Bridesmaids were Alexandra Abrahams, Jo Lee, Poppy Golding and Olivia Harris. Pageboys were Daniel Harris and Asher Abrahams.
The newlyweds, who met two years ago, honeymooned on the west coast of America and have settled in London.