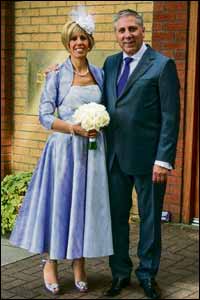 Picture: Carl Sukonik - The Vain Photography
KAREN HARRIS (nee Benson) and Barry Savage have proved that sometimes you do not have to travel far to find love.
The pair tied the knot at Manchester, Great and New Central Synagogue (Stenecourt) after meeting in the apartment block where they both lived.
The ceremony was officiated by Prestwich Hebrew Congregation's Rabbi Dovid Eisenberg.
Karen, a beauty therapist, is the daughter of Maureen Benson, of St Annes. Daughter Steph Harris was an unterfuhrer.
Barry, the son of Ethel Savage, of Whitefield, is an IT consultant. His sons, Nick and Robert, were best men.
Also joining in the celebrations were guests from Israel, New York and Los Angeles. The couple, who have settled in Manchester, honeymooned in the Maldives.