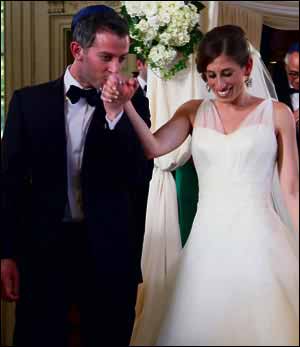 Picture: Dr Jennifer Hirsh
BRITISH-American relations were furthered at the wedding of Abigail Reibman and Robert Brosgill at the Hope Club, in Providence, Rhode Island.
Abigail, a Phd candidate in classics at the University of Edinburgh, is from Rhode Island and the daughter of doctors Bonnie and James Reibman.
Media lawyer Robert Brosgill is the son of Neil and Elizabeth Brosgill, of Leeds.
Best man was Richard Brosgill, matron of honour was Rachel Rosenzweig, maid of honour was Dr Amanda Gelineau and bridesmaid was Sophie Brosgill.
Grandmothers Rita Saffman and Barbara Brosgill were unable to attend the simcha.
The couple, who met in London, are honeymooning in South America and will settle in London.
---
CREATIVE and sporty Gabrielle Jackson celebrated her batmitzvah at the United Hebrew Congregation.
The daughter of Vikki and Simon Jackson, of Alwoodley, Gabrielle is a pupil at the Grammar School at Leeds.
Gabrielle plays hockey, rounders and cricket. She also attends guides, enjoys painting and making jewellery.
Grandparents Diane and Ian Goldman, Anne Jackson and great-grandpa Bob Goldman attended the simcha.
Guests also flew in from New York and Sydney.
Gabrielle's brothers, 14-year-old Adam and Joshua, aged seven, attend GSAL.
---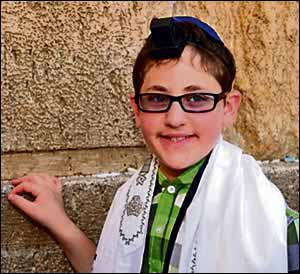 Picture: Dov Yarden
COMBINED cadet forces member Oliver Masters celebrated his barmitzvah at the Western Wall, Jerusalem.
The son of Jacqui Masters and Neil Masters, Oliver, of Scarcroft, read his parsha at the United Hebrew Congregation last month.
A saxophone player, Oliver, who is a pupil at the Grammar School at Leeds, also enjoys computer games.
Grandparents Lucille and Anthony Vincent, and Janet and Derek Masters, all of Leeds, attended with guests from Chicago, Aberdeen, London and Brighton.
Oliver has three brothers, Jake, Harry and Hunter.
---
TECHNOLOGY provided the link for DANIELLE EATON and JAMIE CHARLTON who married at Oulton Hall.
The newlyweds first met as pupils at Brodetsky Primary School and reconnected years later through Facebook.
Beauty therapist Danielle is the daughter of Ilana and Michael Eaton, while sales manager Jamie is the son of Jennie Sapherson.
Danielle's grandma, Estelle Eaton, joined guests from America and Israel at the simcha.
Best man was Warren Herscovitz and bridesmaid was Jamie's niece Kitty Meadmore. Danielle and Jamie honeymooned in Aruba and have settled in Leeds.
---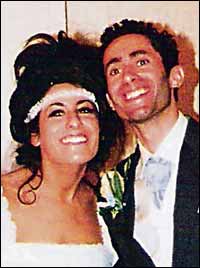 Picture: Andy Sawyers
Roni Samuels and Gary Freeman found love at Limmud when Gary was in the corridor playing on his phone and Roni questioned how much work he was doing.
The couple have married at Prestwich Hebrew Congregation.
Roni, who runs an art website, is the daughter of Simone and Stephen Samuels, of Prestwich, while Gary, the son of Maureen and Edward Freeman, of Prestwich, is a commercial litigation solicitor.
Best men were Anthony Simon and Adam Rose. Bridesmaids were Viki Silver, Emma Rosenblatt, Louise Bulcroft, Madeleine Fresko, as well as the groom's nieces Eliana and Talia Kaye.
Guests attended from Israel. The couple have settled in Prestwich and will honeymoon in India.