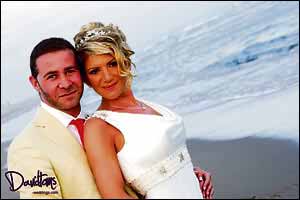 Picture: David Toms
FROM their first date, Marice Berger and Kelly Myers discovered a beach wedding was their mutual dream.
And years later it came true when the couple were married on the beach in Elviria, Spain, by Rabbi Shaul Khalili.
Marice, the daughter of Stephanie and Barry Berger, of Whitefield, is a school teacher, while Kelly, who works in commercial property, is the son of Henreece and Ian Myers, of St Albans.
Best men were the groom's brother Jody Myers, Lee Martin and Amit Sood. Matron of honour was Jodie Foster.
Bridesmaid was the groom's sister Danielle Myers.
The couple have settled in Borehamwood, Hertfordshire.
---
FIONA CHAIT and Morale Shorrick married at Liverpool's Allerton Hebrew Congregation - after meeting at a friend's engagement party.
And the couple marked the occasion with the first wedding celebration held at the King David School campus, in Liverpool.
Fiona, a marketing manager, is the daughter of Helena and Henry Chait, of Liverpool, while financial troubleshooter Morale is the son of Aviva Shorrick and Moshe Shorrick, who now live in Israel.
The Shorrick family are originally from Sunderland and Morale proposed to Fiona with the same ring his grandfather had used.
Best man was Adi Ben-Nesher. Maid of honour was Sara Colman and bridesmaids were Debra Peters and Dee Bookey.
The couple, who were also joined by family and friends from Israel and Germany, have settled in London and will honeymoon soon.
---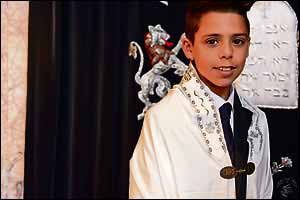 Picture: FLIX N PIX
FOOTBALL-mad Max Barnett has celebrated his barmitzvah.
A pupil at King David High School Liverpool, Max is an Everton fan and has played football since the age of four.
Max, the son of Sharon and Lee Barnett, of Childwall, was barmitzvah at Allerton Hebrew Congregation.
He was joined by brothers Louie, 11, and Sonny, six, as well as sister Sadie, four.
Grandparents Caroline and Leslie Barnett and Estelle and Laurence Balbirer were present.
---
THE north-south divide was united for the wedding of Naomi Davidson and Joel Palmer at the Queens Hotel.
Food technologist Naomi is the daughter of Angela and Leon Davidson, of Alwoodley, while, Joel, who works in the banking industry, is the son of Debra and Howard Palmer, of Edgware, London.
Bridesmaids were Jessica and Debra Davidson together with Kendal and Rickel Palmer.
Best man was Joel's brother, Yaacov.
The couple are honeymooning in Israel and will settle in London.