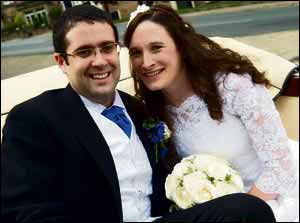 PICTURE: HOWARD BARNETT
A CHANUCAH party at the Saatchi Synagogue led to the marriage of Dr Esther Newman and Marcus Gomez da Costa at Etz Chaim Synagogue.
Esther, a general practitioner, is the daughter of Sandra and Raymond Newman of Leeds while management accountant Marcus is the son of Diana and Anthony Gomes da Costa, of Broadstairs, Kent.
Dayan Yehuda Refson, Rabbi Shalom Kupperman and Rabbi Anthony Gilbert officiated at the chuppa.
Marcus's younger brother, Edward, was best man. Dani, Eliana and Sophia Shababo were bridesmaids.
Following sheva berachot in Leeds and London, the newlyweds are honeymooning in Brazil and Argentina prior to settling in London. Guests attended from Toronto.