GUESTS travelled from two continents for the wedding of Rachel Myerson and Nethanel Ribco at Shoresh Gardens, Jerusalem.
Rachel is the daughter of Nicole and Simon Myerson, of Alwoodley, while Nethanel is the son of Rabbi Aaron Ribco and his wife Rachel, of Ra'anana.
Rabbi Mendel Sufrin, of Leeds, conducted the ceremony assisted by the bridegroom's father.
Bridesmaids were Hannah, Naomi and Penina Myerson, and the 'mate of honour' was Gideon Barth.
Guests travelled to the wedding from England, America, France and South America.
Rachel and Nethanel are making their home in Herzliya.
---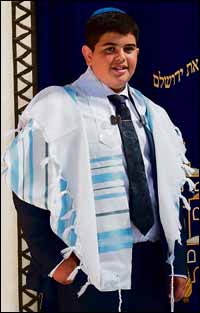 Picture: Howard Barnett
MAGIC was in the air when Adam Phillips celebrated his barmitzvah at Beth Hamidrash Hagadol Synagogue on Shabbat.
A keen magician and illusion fan, Adam is the son of Elissa and Robert Phillips, of Shadwell.
A pupil at the Grammar School at Leeds, he also enjoys debating and horror movies.
Adam is also adept at rugby, representing GSAL and Otley Zebras.
His grandma, Adele Woolfson, who lives in Alwoodley, joined guests and relatives from Dublin and Hong Kong at the simcha.
Adam has a 16-year-old brother, Simon, who also attends GSAL.