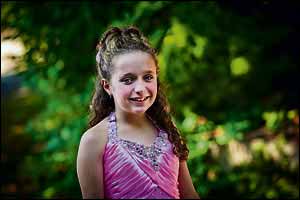 Picture: Robert Clayton
NATASHA WILLIAMS got a big kick out of celebrating her batmitzvah at Heaton Park Hebrew Congregation.
The Manchester High School for Girls pupil is a talented footballer and represents Bury FC's girls team.
The daughter of Giselle and Robert Williams, of Prestwich, also enjoys running and hockey.
She was joined by brothers Benjamin, 16, and Max, 10, as well as grandmother Muriel Dwek, of Whitefield.
---
KEEN musician Adam Tobias struck the right chords at his barmitzvah.
Adam, the son of Ruth and Edward, of Newton Mearns, celebrated at Giffnock and Newlands Hebrew Congregation.
He was joined by 11-year-old brother David, as well as grandmother Vivienne Tobias.
A pupil at Hutchesons' Grammar School, Adam is an avid sportsman and plays cricket as well as football for Maccabi.
But it is his drums and piano that occupies his time most.
The family was joined by friends from both the Manchester and Liverpool Jewish communities, as well as guests from Australia.
---
GYMNASTICS fan Shana Winston celebrated her batmitzvah at the United Hebrew Congregation on Shabbat.
The daughter of Elissa and Jonathan Winston, of Alwoodley, Shana is a pupil at the Grammar School at Leeds.
Away from gymnastics, Shana also enjoys dancing and reading.
Grandparents Barbara and Phil Cammerman, Alan Donne, together with Val and Stuart Winston, all of Leeds, attended the simcha.
Shana has a 14-year-old brother, Toby, who also attends GSAL, and six-year-old sister, Lottie, who is a Brodetsky Primary School pupil.