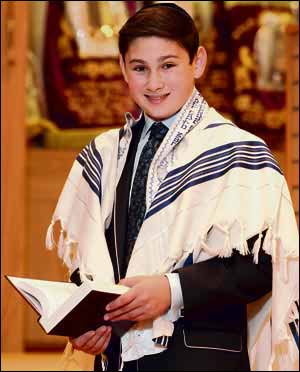 PICTURE: STEVE BOOTLE
MULTI-talented sportsman Joshua Borlant celebrated his barmitzvah at Etz Chaim Synagogue.
The son of Julie and Jeremy Borlant, of Thorner, Joshua is a Grammar School at Leeds pupil.
A former Leeds Maccabi player, Joshua now plays rugby union for West Park.
A Leeds United season ticket holder, Joshua thrives on sport, representing GSAL at rugby, football and athletics on top of playing golf at Moor Allerton Golf Club and finding time to ski.
Great-grandma Evelyn Lipman, grandparents Hilary Jackson, and Andy and Seymour Borlant, attended the simcha along with guests from America, Canada, Spain, Scotland, Brighton and London.
His 10-year-old sister Jenna attends Gateways School.
---
Robert Goodman was barmitzvah at the Chassidishe Synagogue.
The son of Ruth and Gary Goodman, of Alwoodley, Robert attends Allerton High School.
A follower of football and tennis, Robert also enjoys IT, graphic design and playing with his Doberman dog, Diesel.
Grandmas Benita Goodman and Jean Brenner attended the simcha. Robert has two brothers, James, 16, and 15-year-old David, who also attend Allerton High.
---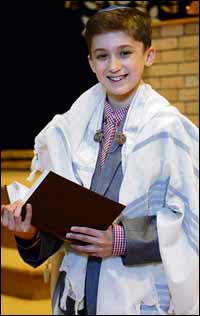 PICTURE: STEVE BOOTLE
MUSIC fan Joel Ingleby celebrated his barmitzvah at Etz Chaim Synagogue.
The son of Jane and Howard Ingleby, of Adel, Joel, who enjoys drama, is a pupil at the Grammar School at Leeds.
Grandparents Madeleine and Brian Ingleby, of Leeds, together with Hilary and Tony Nelson, of Leicester, attended the simcha.
Guests also attended from Winchester, London, Wolverhampton and Oxford.
Joel has a brother, Thomas, 11, who also attends GSAL.
Seven-year-old sister, Lara, is a Brodetsky Primary School pupil.