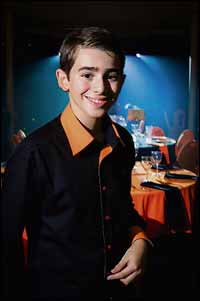 Picture: Robert Clayton
FOOTBALL fanatic Josh Cole had a day fit for a champion when he was barmitzvah at Whitefield Hebrew Congregation.
The son of Laura and Adam Cole, of Unsworth, is a huge fan of Premier League champions Manchester United and is goalkeeper for Prestwich Marauders.
The King David High School pupil also enjoys playing on the Xbox and socialising.
Joining in the celebrations were sister Grace, six, and grandparents Avril and Simon Cole, of Whitefield, Jeffrey Garman, of St Annes, and Evayne Waxman, of Crumpsall.
---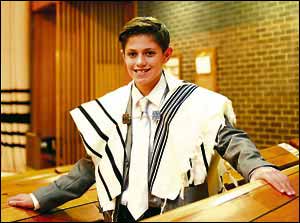 Picture: Flix n Pix
DRAMA fan Elliot Abrahams celebrated his barmitzvah at Beth Hamidrash Hagadol Synagogue on Shabbat.
The son of Carolyn and Richard Abrahams, of Alwoodley, Elliot attends the Grammar School at Leeds.
He enjoys speech, drama and debating.
As well as playing football for Leeds Maccabi, Elliot is also a keen squash player and golfer.
Grandparents Norma and Jack Abrahams together with Maurice and Joyce Ziff attended the simcha.
Elliot's 14-year-old sister Imogen also attends GSAL.