THERE were plenty of Mancunian links at the Californian wedding of Julian Larah and Gia Strauss.
For Julian is from Prestwich, while Gia's grandfather Morris was born in Cheetham Hill and left for South Africa when he was 12.
The couple were married in Newport Beach, California, by Rabbi Yisroel Ciner.
Julian, an actuary, is the son of Debby and Neil Larah, of Prestwich, while television producer Gia is the daughter of Ralene and Bruce Strauss, of Irvine, California.
Best men were the groom's brothers, Ben and Mark. Maid of honour was Gabby Mirejovsky. Bridesmaids were Elyshea Schwimmer, Ashley Stein and Eva Taborek.
Also joining in the celebration were the groom's grandmother Sheila Larah and many guests from Manchester and London.
After a honeymoon in Hawaii, the couple have settled in Orange County, California.
---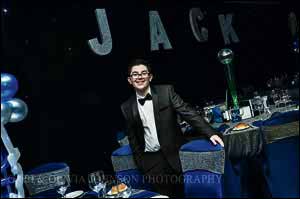 Picture: Gabi and Olivia Johnson Photography
MANCHESTER United fan Jack Cowan was really on the ball when he celebrated his barmitzvah at Higher Crumpsall and Higher Broughton Hebrew Congregation.
The son of Cathy and Bernard Cowan, of Prestwich, Jack is a pupil at King David High School. He enjoys playing on the Xbox.
Joining in the celebrations were Jack's sisters Sara and Olivia and grandmother Eileen Somers.
---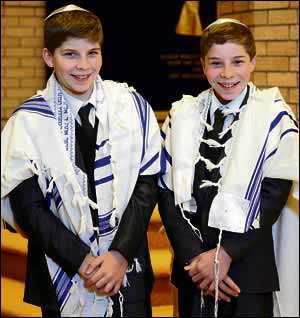 Picture: Steve Bootle
TWINS Cameron and Aaron Badkin celebrated their barmitzvot at Etz Chaim Synagogue.
The sons of Tracey and Peter Badkin, of Alwoodley, both are pupils at Allerton High School. While computer games is a shared hobby, Cameron enjoys football and Aaron enjoys art. The twins sister, Reba, 16, attends Gateways School.
---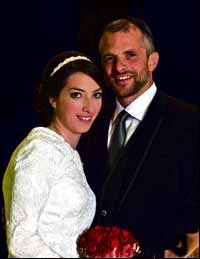 Picture: Howard Gordon
GARDENER Chanan Fishman certainly found his rose when he married Zoe Rich. The couple, who met through friends, married at Kibbutz Ramat Rachel.
Zoe, who works for a property development company, is the daughter of Helena and Mac Rich, of Prestwich, while American-born Chanan is the son of Mary-Ellen Fishman, of New Jersey. The couple have settled in Nachalot, Jerusalem.