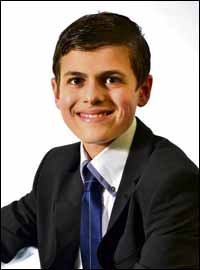 Picture: Howard Gordon
KEEN trumpeter Saul Bishop hit the right notes when he celebrated his barmitzvah.
Saul, the son of Suzanne and Jonathan Bishop, of Prestwich, was barmitzvah at Manchester Great and New Central Synagogue.
He was joined by sister Jennifer, 15, as well as grandparents Barbara and Harold Bishop, of Liverpool.
A pupil at King David High School Yavneh, Saul is also a passionate fan of Liverpool FC - something he inherited from his father.
The family were joined by family from America, Israel and London.
---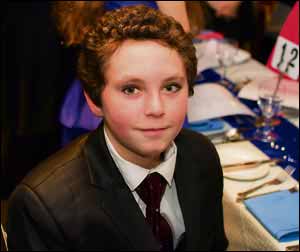 Picture: Elliot Cohen
BARMITZVAH boy Lucan Cohen saw his name plastered all over television and magazines in the lead up to his simcha.
But it was just that his big day at Bury Hebrew Congregation coincided with ITV screening a new drama this week called Lucan.
And in a nod to the famous peer who went missing in November 1974, Lucan's mother Belinda Cohen, of Whitefield, bought him an online title meaning he can now be referred to as Lord Lucan.
She also bought titles for King David High School pupil Lucan's grandparents, 'Lord' Sam Cohen and 'Lady' Sandra Cohen.
Lucan's favourite pastime is playing on his Xbox, but he also enjoys cycling and is a member of the Jewish Lads' and Girls' Brigade.
He has three older siblings, Leigh-Anne, Elliot and Deiter.