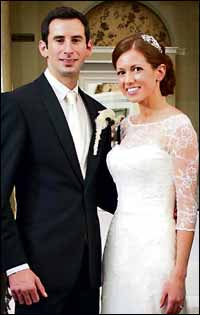 Picture: Steve McNiven Photography
THE north-south divide was united at the Queens Hotel for the wedding of Joanne Fearnley and Richard Goldsmith.
Joanne, who works in financial services, is the daughter of Patsy and Jeffrey Fearnley, of Leeds, while accountant Richard is the son of Tony and Lynda Goldsmith, of London.
Joanne's sister, Claire Rabin, was bridesmaid, while flower girl and page boy were Georgina and Joshua Fearnley. Best men were Ric Cancro and Jonathan Nadler. The couple honeymooned in the Maldives and have settled in London.