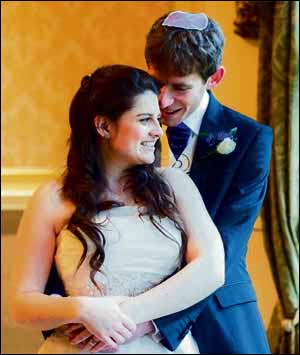 PICTURE: Blake Ezra
DANIELLA SAFFER graduated with more than a degree from university - she also gained a husband.
Daniella, the daughter of DEBBIE and DAVID SAFFER, of Leeds, married ANTHONY ANGEL at Shendish Manor Hotel, Hertfordshire.
The couple met when Daniella, who was deputy head girl at King David High School, studied at Salford University and Anthony, the son of NAOMI and ALAN ANGEL, of Kenton, London, was a student at Manchester University.
Daniella's grandparents, HAROLD and VALERIE SAFFER, of Leeds, and REBECCA CYNA, of London, and Anthony's great-grandma, TRUDY LEADER, of London, together with grandparents NINA ANGEL and ALAN GILBERT, both of London, attended the wedding, conducted by RABBI JASON KLEIMAN, of Beth Hamidrash Hagadol Synagogue, Leeds.
Three continents were represented at the wedding with guests travelling from America, Australia, Canada, Israel and France for the celebrations.
Best man was ANTHONY BUNT. Bridesmaids were Daniella's sister, ABIGAIL BOMSZTYK, and cousins KARA CYNA, MIRIAM CYNA, SOPHIA CYNA and VICTORIA SAFFER.
The newlyweds, both past leaders of Israel Experience tours - Daniella for Bnei Akiva and Anthony for FZY - work in the technology industry and have settled in Edgware, London.