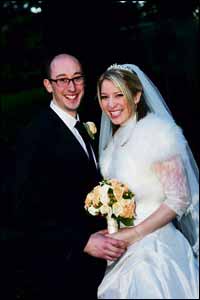 Picture: Jodi Hinds
A SHARED love of animals brought vet Gabe Wertheimer and Kate Anderson together.
The pair - who met through a dating website - were married at Kingfield Synagogue, Sheffield, by Rabbi Yonoson Golomb and South Manchester Synagogue's Rabbi Dovid Lewis.
Kate, the daughter of Alison and Alan Anderson, of Sheffield, is a trade planning manger, while Gabe is the son of Leslie and Judith Wertheimer, of Manchester.
Best man was Tom Newton. Bridesmaids were Nancy Hernandez, Fiona Campbell, Fay Dollimore, Lucy Bolton and Amelie Anderson, while page boys were Louis Anderson, Coby Wertheimer and Darius Wertheimer.
Also joining in the celebrations were the bride's grandfather Bernard Miller and guests from America, Australia, Israel, France and Germany.
After a honeymoon in South Africa and Mauritius, the couple have settled in Bedford.