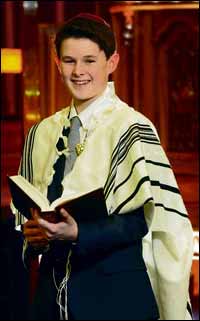 Picture: Steve Bootle
LOCAL charities are to benefit following the barmitzvah of Benjamin Goldberg at the United Hebrew Congregation.
The kind-hearted teen is donating a proportion of his barmitzvah money to Donisthrope Hall and St Gemma's Hospice.
The son of Deborah and Philip Goldberg, of Shadwell, Benjamin is a pupil at the Grammar School at Leeds.
A keen sportsman, Benjamin enjoys cricket, golf and follows Leeds Rhinos.
Grandparents Gill and Roy Ross, Carole and Basil Latter, all of Manchester, and Michael Goldberg, of Leeds, joined in the fun. Benjamin's 10-year-old sister, Katie, attends Brodetsky Primary School.
---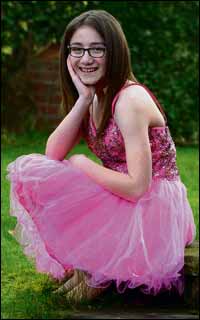 Picture: Steve Bootle
PRETTY in pink Lucy Ross was batmitzvah at the community centre on Sunday.
The daughter of Shelley and Andrew Ross, of Alwoodley, Lucy, who has a 17-year-old brother, Adam, is a pupil at the Grammar School at Leeds.
A keen cross country runner, Lucy represents the GSAL hockey and netball teams.
Captain of the U-12 netball B team, Lucy is also a member of Leeds Schools' U-12 netball squad.
Her grandparents, Rhona and Malcolm Ross, from Leeds, together with June and Ivan Rister, from Radlett, joined in the celebrations.