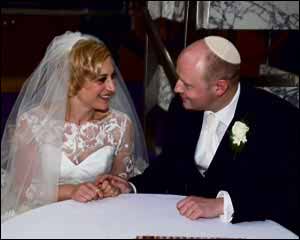 Picture: Andrew James
DEBORAH Benjamin made an arresting sight as she married policeman Yoni Barnett at Giffnock and Newlands Synagogue, Glasgow, in a ceremony conducted by Rabbi Moshe Rubin.
Deborah, the daughter of Elaine and Harvey Benjamin, of Glasgow, is a teacher at Manchester Grammar School, while Yoni, the son of Shoshana Barnett, of Glasgow, and the late Tony Barnett, is a police detective with the Liverpool Constabulary.
Best man was Danny Radnor and best maid was the bride's sister Simone Benjamin. Bridesmaid was Suzy McArthur.
Guests attended the wedding from all over the UK, America and Italy. The couple have settled in Manchester and are planning to honeymoon later this year.