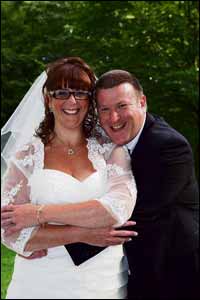 PICTURE: Benchmark Photography
Shelley Stiller and Andrew Lester married at Heaton Park Synagogue, 19 months after meeting at a friend's birthday party.
Beauty therapist Shelley is the daughter of Marilyn and Phil Stiller, of Bury, while Andrew, an estate agent, is the son of Maureen and Gordon Lester, of Whitefield.
Best man was Phil Reynolds and bridesmaids were Clil Ben Yaacov, Scarlet Silver and Chloe Rawes. Maid of honour was Jillian Josephson. Guests attended from Canada, Sweden and Israel.
The couple have settled in Agecroft and will honeymoon later in the year.
---
SHLOMIE RUBIN joined the adult community of Giffnock Synagogue last week.
The shul hosted the barmitzvah of Shlomie, the middle son of minister Rabbi Moshe Rubin and wife Hadassa.
A large crowd turned up to watch Shlomie being called up for his first aliya.
After the service, there was a special breakfast.
Shlomie has been attending all the services for the last four years.
He has been a regular at the Netherlee and Clarkston Table Tennis Club, which meets in the shul hall.