MARTIN Bowman was Barmitzvah at the Etz Chaim Synagogue on Shabbat.
The son of Sandy and Lloyd Bowman, of Alwoodley, Martin attends the Grammar School at Leeds.
Martin, who loves most sports, plays football for Leeds Maccabi U-13s, cricket for New Rover and is a member of Moor Allerton Golf Club.
Martin's 91-year-old grandmother, Mona Bowman, joined in the celebrations in addition to his uncle, Keith Sheldon, and Israeli cousins Liat and Ran, together with guests from New York, London and Manchester.
Martin has an older brother, Warren, 15, who also attends the Grammar School at Leeds and captains the Moor Allerton junior golf team.
---
AFTER being introduced by mutual friends, Orly Lopian and Zvi Portnoy married at the Tel Aviv Hilton.
Orly has finished her second year studying mathematics at Manchester University and Zvi is studying to become a rabbi.
The bride is the daughter of Noemi and Danny Lopian, while Zvi is the son of Rabbi and Mrs Joel Portnoy.
And bridesmaid honours were shared among 21 young guests.
Joining in the celebrations were Orly's grandmothers Marian Lopian and Renee Bornstein, and Zvi's grandparents Moishe and Shoshanna Portnoy.
Guests attended from Britain, France, Canada, the US and Australia.
The couple will honeymoon in California and, once Zvi completes his training, will settle in Britain.
---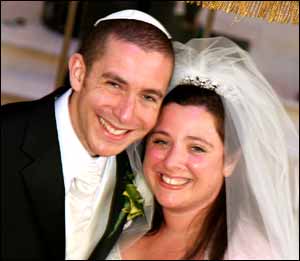 Picture: Ian Robinson
STOCKBROKER Diana Leinhardt shared her love for Dan Belcher when they married at Hale and District Hebrew Congregation.
Diana is the daughter of Louise and Peter Leinhardt, of Hale, while Dan, a barber, is the son of Beverley and Johnny Belcher, of Bowdon.
Best man was the groom's brother Simon Belcher.
Bridesmaids were Emma Santhouse, Debbie Langer, Donna Graham, Jasmine Belcher and Sude Belcher.
Pageboys were Zac Leinhardt, Coby Leinhardt, Jesse Leinhardt and Samuel Gould.
Guests from Israel and America joined in the celebrations, as did the bride's grandmother Gilda Leinhardt.
After a honeymoon in South Africa and Mauritius, the couple have settled in Altrincham.
---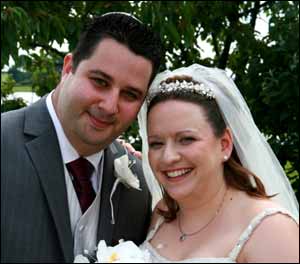 Picture: Warren Shaffer
LOVE blossomed at a party when Nicola Joseph met Jonathan Goldstone.
And nine years later, the couple were married at Sandhole Oak Barn, Congleton, by Heaton Park Hebrew Congregation's Rabbi Daniel Walker.
Nicola, a sales administrator, is the daughter of Susan and Ian Joseph, of Unsworth, while Jonathan, an IT consultant, is the son of Janet and Adrian Goldstone, of Whitefield.
Best man was Alex Goldstone and bridesmaid, the bride's sister Alexandra Cohen. Pageboys were Ben Nesbit and Neil Nesbit.
The bride's grandparents Sheila Larah and Betty and Cyril Joseph were there, as was the groom's grandmother Joyce Goldstone.
And the bride's cousins Julian and Ben Larah flew from Los Angeles and New York for the big day, as did guests from Canada.
After a honeymoon in Spain, the couple have settled in Radcliffe.